Turtle found by train conductor currently in the care of MBCR staff.
Click image to enlarge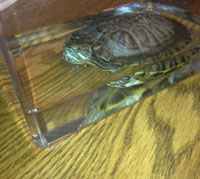 The red-eared slider is currently in the care of the Massachusetts . Photo by MBCR
A passenger on the Massachusetts Bay Commuter Train apparently abandoned his pet turtle on the train as he got off and headed for the airport, according to a report on Bostinno.com. According to the report, a conductor was on his regular sweep of the train when he found the red-eared slider (Trachemys scripta elegans) in a pet carrier on one of the seats. The Massachusetts Bay Commuter Rail staff called area animal shelters to ensure nobody reported a missing turtle, and then took to Twitter to let people know the turtle was left on the train and the staff was currently caring for it.
MBCR Twitter followers responded, saying they watched the rider deliberately leave the turtle behind. After speaking with staff at the New England Aquarium, who said the aquarium would assist in finding a home for the turtle, MBCR staff took to Twitter again this morning with their plea.
"Our hard-shelled friend wasn't lost. . . he was abandoned. Ideas for a new home? Aquariums or schools?"
"We'd love to see our good-natured train turtle find a good home in a classroom, aquarium or discovery museum," MBCR Spokesperson Rhiannon D'Angelo told Bostinno. "Though he's been a great guest during his stay, a train station isn't a good home for a turtle."