Click image to enlarge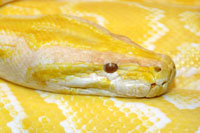 Albino Burmese Python
Wow, it has been one crazy week! Last Friday night, after close of business here on the east coast, I received a call from our lobbyists saying that their sources indicated that HR2811 (python ban) was on the move.
Now in case you are not familiar with what is going on in Washington right now, HR2811 is a bill sponsored by Congressman Kendrick Meek of Florida that would ban the entire Python genus. Actually, it was so unclear the way it was written that it could be interpreted to include ALL pythons. So, our lobbyists tell me that the bill is going to move through the House Judiciary Committee on Tuesday and Wednesday. I'm thinking, "Wow, that is really fast. We are going to have to do something in a hurry to have any influence on this." The fact that this bill was ready to move so quickly created a very dangerous situation for the Reptile Nation. We had to get the word out fast!
I put the word out to the United States Association of Reptile Keepers (USARK) Board of Directors and the wheels began to turn. We sent out an email blast on Saturday through the usark.org website to thousands of the Reptile Nation. We asked for a Congressional call-in day on Monday, July 27, to oppose HR2811. Our directors got on the phone and started stirring up interest. I went on Reptile Radio on Saturday night with Larry and BT and made the pitch for the call and fax campaign. On Sunday the "buzz" about the call-in day went viral through the Reptile Nation. It was all over the Internet and social networking sites. Emails throughout the community pushed the call-in day forward.
Monday the calls began to roll-in to the bill sponsors and the committee members. Our lobbyist contacted the sponsor's staff to inform them of the damage this bill would do to the reptile community if passed as written. They indicated that they were willing to hear our case and consider an amendment. USARK urged that the call-in be extended through Tuesday.
Tuesday there was a conference call to discuss a possible amendment to HR2811. In attendance was the committee staff, sponsor's staff, the Humane Society of the United States (HSUS) and USARK. HSUS pushed for all pythons to be included. When it became obvious there was going to be an amendment, HSUS pushed for the African rock python and reticulated python to be on the bill. They said that the reticulated python was already invasive and would surpass the Burmese python if not included. I pointed out that HSUS could not give any credible evidence to support their claims or requests. I included that there is an ongoing scientific process at the United States Fish and Wildlife Service (USFWS) to determine which species are invasive and which are not, and that they were trying to circumvent this scientific evaluation. Following the meeting committee staff informed USARK that there would be an amendment to the bill and that they were committed to working with us to create language for another amendment allowing the captive-bred trade of these animals to continue.
On Wednesday, Congressman Tom Rooney of Florida introduced an amendment to include only the Burmese python and African rock python. Committee staff renewed their commitment to work with USARK through the August recess to hammer out language for an amendment prior to a vote on the House Floor allowing the captive-bred trade of these snakes to continue. USARK is dedicated to making sure all the Burmese and African rock python breeders will be able to continue to operate their businesses. We will work hard to preserve your place as a legal business concern within the Reptile Nation family.
Advertisement
HR2811 had bipartisan support and flew through the subcommittee and full committee, even with hundreds of calls and faxes opposing it. Fortunately, USARK was able to convince committee staff and the sponsors that this bill that it would be incredibly damaging to an entire sector of the economy if it was not amended. To their credit, they listened. They had not heard our side of this issue before. It seemed to them a very simple bill. We illustrated our concerns and they understood it was not necessary to destroy the reptile industry over this issue. They did not have to listen. The votes were overwhelmingly there to pass HR2811 intact.
This is a real victory for the Reptile Nation! This whole situation could easily have led to the end of the reptile community as we know it. Thanks to the hard work of the Reptile Nation we have turned a bad situation good. Animal rights organizations can no longer slander us at will. Washington now wants to know where we stand on these issues. We are working hard to make sure they understand the realities behind what we do, not the fairy tales being bandied about as if they are fact. We now have a voice… the voice of the Reptile Nation! You are now being heard loud and clear. Thank you for all the support!
Andrew Wyatt is the President of the United States Association of Reptile Keepers (USARK) and has been an avid herp enthusiast for more than 35 years. He has traveled the world and has had his animals featured in a number of television productions. For more information about USARK,click here.
Advertisement