Second hearing on H.R. 2811 focused on a risk-assessment report.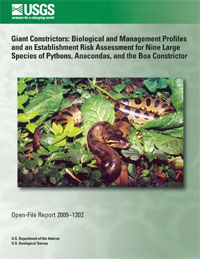 A 2009 U.S. Geological Survey report on giant constrictor snakes was the major focus of a hearing on H.R. 2811 on Nov. 6. Image courtesy USGS.
For the time being, a federal bill that, if passed, would affect the python trade remains unchanged. Its second committee hearing was in early November.
The subcommittee hearing on H.R. 2811, the House version of Senate bill S. 373, mostly focused on a 302-page U.S. Geological Survey risk-assessment report concerning nine constrictor snakes. Several witnesses, including a spokesman for the U.S. Fish and Wildlife Service, advocated an amendment adding all nine snakes to the bill, but such an amendment wasn't added during the hearing.
The USFWS support for H.R. 2811 surprised some groups following the bill. Andrew Wyatt, president of the U.S. Association of Reptile Keepers, wrote in his ReptileChannel.com blog that USFWS seems ready to abandon an evaluation of Boa, Python and Eunectes constrictors due to be completed by 2010, which is necessary to adopt a rule change to the Lacey Act.
"The USFWS cites their lack of expertise and resources to evaluate this issue as reason to recommend that H.R. 2811 be amended to reflect the USGS report conclusions," Wyatt wrote. He added that USARK scientists think the USFWS evaluation should be allowed to conclude and the USGS report shouldn't be used as justification for legislating the Lacey Act. "We cannot allow science and good policy to be sacrificed for political expedience," he wrote.
Wyatt and Dr. Elliott Jacobson, a professor of zoological medicine at the University of Florida, testified in opposition to H.R. 2811 during the hearing before the House Judiciary Subcommittee on Crime, Terrorism and Homeland Security.
In written testimony, Jacobson said the USGS report was riddled with uncertainty. "It is my understanding that this report is being used as the 'best' source of information in determining the ultimate outcome on the bill to amend title 18," Jacobson wrote. "While this report presents much factual information gleaned from the literature, it also is replete with interpretations and categorizations of various 'organism risk potential' that (as far as I can tell) are based on a subjective scoring system that lacks scientific credibility."
The Pet Industry Joint Advisory Council also has stated it has issues with the methodology in the USGS report. According to PIJAC, staff members are conducting an in-depth review of the report.
Advertisement
Wyatt testified to how H.R. 2811, if passed, would affect the reptile industry and the economies intertwined with it. "USARK estimates that today there are over 4 million boas and pythons in captivity in the United States," he said in written testimony. "This represents about $1.6 billion in asset value and $1.8 billion in annual revenues. Of these in captivity today, 100,000 are Burmese pythons or African pythons. (…) Simply legislating animals onto the Injurious Wildlife List of the Lacey Act will not accomplish H.R. 2811's stated intent. Rather, it will destroy the most valuable resource capable of effectively managing the millions of animals already here. If you reduce the value of these animals to zero and destroy the livelihoods of those most qualified to deal with the secure disposition of all of these animals, where will that leave us?"
The answer remains unclear, but people and organizations representing the herp industry continue to say complacency isn't an option. In a guest blog on ReptileChannel.com, Bill Brant, a member of PIJAC's board of directors and owner of The Gourmet Rodent, issued one such call for action. "I believe our industry-hobby is at a critical crossroads at this time in our relatively brief history," he wrote. "Action is needed in order to preserve our industry as we have known it."