Some scientists say report on nine non-native constrictor snakes is unscientific.
A U.S. Geological Survey report, touted by some as justification for a ban on large constrictor snakes, is being criticized as unscientific by a group of scientists.
In a letter sent to U.S. legislators on Nov. 24, the group claims the report, which assesses the ecological risks associated with nine large, non-native constrictor snakes, is not based on best-science practices and has not undergone external peer review.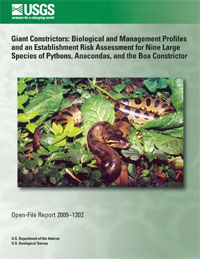 Image courtesy USGS.
Some scientists say a 2009 U.S. Geological Survey report on giant constrictor snakes shouldn't be used as the basis for snake legislation.
The report, released Oct. 13, identified Burmese pythons, northern and southern African rock pythons, boa constrictors, and yellow anacondas as having a high risk for invasiveness in the United States. The other four snakes studied — reticulated pythons, DeSchauensee's anacondas, green anacondas and Beni anacondas — were assessed as posing a medium risk.
Advertisement
The report was recently discussed during a hearing for H.R. 2811, the U.S. House version of a federal bill that would affect the python trade if passed. H.R. 2811 seeks to include Burmese and African rock pythons to the list of injurious species, thus prohibiting the import, export and interstate movement of the snakes. Proponents of the bill, including the Humane Society of the United States, provided written testimony recommending that the bill be amended to include all nine snakes included in the USGS report.
In their letter to the U.S. House Committee on the Judiciary, 11 scientists, veterinarians and professors wrote that the USGS report is "not suitable as the basis for legislation or regulatory policies." They claimed the report is based on an unproven risk-assessment model that likely provides a gross overestimate of potential habitat for the studied snake species.
"We encourage the U.S. Fish and Wildlife Service and USGS to submit this document to an independent body for proper and legitimate review," the letter states. "Additionally, we encourage the committee to review this document not as an authoritative scientific publication but rather as a report currently drafted to support a predetermined policy."
USGS could not be reached for comment.
Advertisement