Click image to enlarge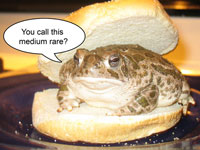 Turkey Burger in a hamburger bun.
  Left - Turkey Burger, Middle - Won Ton aka Meatball, Right - Whopper Jr.
I have had my Great Plains toad, Turkey Burger, for about a year now and ever since I got her I have been looking to find her a friend. After countless unsuccessful attempts to find her a friend at many different reptile shows, I was beginning to wonder if my promise to her would ever be fulfilled.
But then, as luck would have it, the seller who I had originally bought Turkey Burger from had an entire cage full of Great Plains toads at a recent show. He told me that Great Plains toads are only available for about three weeks out of the year, which would explain their prior absence.
Most of the Great Plains toads that were available appeared quite a bit smaller than Turkey Burger, so I was concerned that she might make a meal out of them if I put them together. I was still determined to find her a mate however, and browsed through the turbulent sea of bumpy backs, gently squeezing them as I went. I must admit, this has always been my weakness, and is always my favorite part – listening for a chirp to see if they are male or female and handling as many toads as I can. I guess I would compare myself to that lone shopper in the produce section of the grocery store, squeezing all of the fruit to find the freshest, juiciest piece.
Satisfied at finding the largest, "juiciest" male, he was scooped into a container for the trip home. The container happened to be a won ton soup bowl, and it seemed a fitting and toadly name, so Won Ton it was. He is a little guy compared to the great mass that is Turkey Burger, but he's still larger than bite size, rendering him safe from death by consumption. Because he looks like a mini version of her, he is also known as Meatball.
Two weeks later, the same seller had a new batch of Great Plains toads, including some larger ones, and I was able to find another male to make my toad collection into a trio. The new guy was larger than Meatball but smaller than Turkey Burger, so I named him Whopper Jr.
Now my toad family was finally complete! They seem inseparable, sitting side by side in their toad hut and soaking together in their water bowl. Even feeding time is a group sport, and they "zap" anyone who gets in their way with their tongues. They are always in cricket pursuit, and zap each other's faces and my hands as I give them food. This toe tapping and tongue zapping frenzy is always quite amusing to watch. Although they all look similar, each has their own unique mannerisms and different personalities, making it easy for me to tell them apart. It's fun to watch them interact with each other, and to me, they look like fat hopping blobs of meat with eyes. Turkey Burger is no longer the sole resident of her fortress of solitoad, but is now part of a happy, thriving, triple toad town.
-The Toad Talker
Advertisement