Goode's thornscrub tortoise lives in thorn scrub and tropical deciduous forests.
A new species of desert tortoise has been discovered and described by a conservation geneticist with the University of Arizona.
The turtle, called the Goode's Thornscrub Tortoise (Gopherus evgoodei) was discovered in Sinaloa, Mexico, in thorn scrub and tropical deciduous forests. It is only found in these areas, according to UA geneticist Taylor Edwards and because of this, it has the smallest range of the three other known desert tortoises.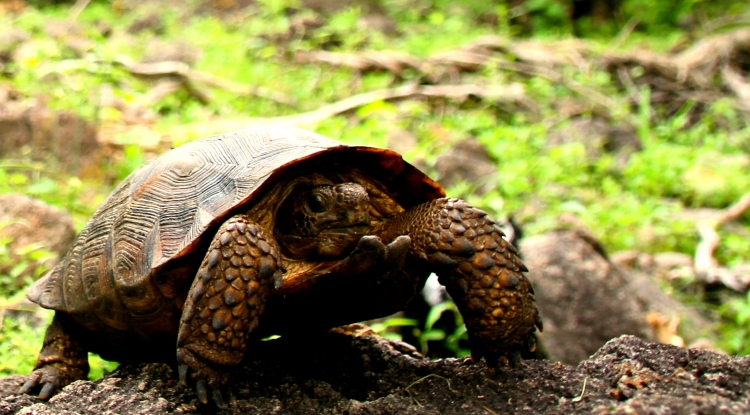 Taylor Edwards
Goode's thornscrub tortoise lives in thorn scrub and tropical deciduous forests.
To determine Gopherus evgoodei was in fact a new species, Edwards sampled 233 wild desert tortoises of both the Sonoran and Sinaloan lineage and performed DNA analysis on these reptiles and compared DNA with that of the Gopherus evgoodei and found distinct differences in the DNA. Edwards said that the tortoise species changes with the vegetation. Those to the north are the Sonoran desert tortoises while the south holds the Thornscrub tortoise.
"They can be strikingly yellow or orange, and their carapace, or shell, is flatter and squarer than what is seen in typical Sonoran individuals. The scales on their forelimbs frequently protrude and can be very spiky," Edwards said in a press release put out by the university. "To hold one is to know you are holding something special."
Advertisement
To name the new species, Edwards held an auction at the Third Annual Turtle Ball in New York City, an event that raises awareness of the plight of turtles and tortoises around the world.
"I wanted to do this not just as an academic exercise, but also to make a difference in helping to preserve this new species," Edwards said. "In an academic setting, when you're just churning out scientific papers, activism seems distant sometimes. I wanted to bridge that distance as a conservation geneticist. And I figure if we are introducing a new species to the world and we already know that it and its habitat are imperiled, why not start it out with a trust fund?"
The tortoise was named in honor of restauranteur and hotelier Eric Goode, who also founded the Turtle Conservancy.
The complete paper on the Goode's Thornscrub tortoise can be found on the Zookeys website.
Advertisement