Land includes last known Rana capito sevosa breeding pond in Louisiana.
The U.S. Fish and Wildlife Service has set aside more than 6,500 acres of land in Mississippi and Louisiana as critical habitat for the Mississippi gopher frog (Rana capito sevosa), a critically endangered species with an estimate of less than 100 left in the wild. The land is located primarily in Mississippi but also includes about 1,600 acres in Louisiana, including the frog's last known breeding pond in St. Tammany Parish.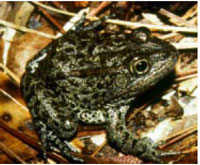 Advertisement
U.S. Fish & Wildlife Service
The Mississippi gopher frog was first protected as an endangered species in 2001. It is about three inches in length and lives in abandoned and active burrows primarily dug by the gopher tortoise, abandoned holes dug by mammals as well as in old tree stumps. It deposits its eggs in bodies of water that must fill up and then dry out or the area will not be suitable habitat for breeding. This is of concern as commercial development of these areas result in dredging, which have adverse effects on breeding ponds. Residential development is also of concern, as fires are essential to the frog's survival in the wild, and the presence of such developments will reduce the frequency of fires.