Lizard was listed as candidate for protection in 2010.
The dunes sagebrush lizard (Sceloporus arenicolus), will not be placed on the Endangered Species List, U.S. Interior Secretary Ken Salazar announced today in Washington. The lizard, which lives in shinnery oak habitat in New Mexico and Texas, was first proposed for protections in 2010, but it appears that voluntary conservation agreements between private landowners and the federal government helped to stave off the listing.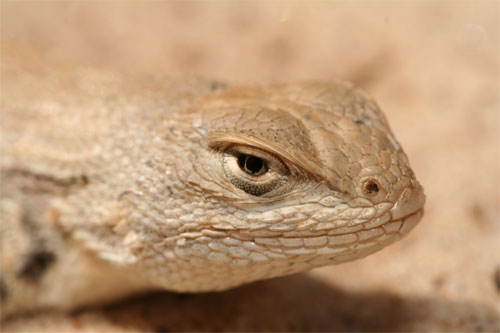 Dunes sagebrush lizard.
"This is a great example of how states and landowners can take early, landscape-level action to protect wildlife habitat before a species is listed under the Endangered Species Act," said Secretary of the Interior Ken Salazar. "The voluntary conservation efforts of Texas and New Mexico, oil and gas operators, private landowners and other stakeholders show that we don't have to choose between energy development and the protection of our land and wildlife – we can do both."
Approximately 95 percent of the lizard's shinnery oak habitat in New Mexico has been enrolled in conservation agreements, and 70 percent of the reptile's habitat in Texas has been enrolled since the plan was announced in February.
The debate on whether to list this species as endangered has been rancorous on both sides, with the oil and gas industry opposed to the listing and environmentalists in favor of the listing. The decision was delayed for six months in January so data on the lizard could be further studied. The U.S. Fish and Wildlife Service determined that the lizard is no longer in danger of extinction and is not likely to become endangered in the foreseeable future. It will monitor the voluntary conservation measures implemented by landowners to ensure compliance and can reevaluate whether the lizard needs protection at any time. More information on the dunes sagebrush lizard can be found below.
USFWS Proposes Endangered Status for Dunes Sagebrush Lizard
Advertisement
Dunes Sagebrush Lizard Listing Delayed by Six Months