The lizards were relocated to Thailand's Khaoson Wildlife Breeding Centre.
Villagers in Thailand's Samut Songkhram Amphawa district had a heap of trouble on their hands as Asian water monitors (Varanus salvator), a protected species in the country, set upon local fish farms, raiding the farms of the fish, according to a report in the Bangkok Post. In an effort to mitigate the losses and to reduce their numbers in the area, the government captured 641 of the lizards during a roundup this week. According to the report, the lizards raided fish from farms in 20 villages in the district and eight area townships.
The lizards were taken to the Khaoson Wildlife Breeding Centre in Ratchaburi's Chom Bung district and will be released.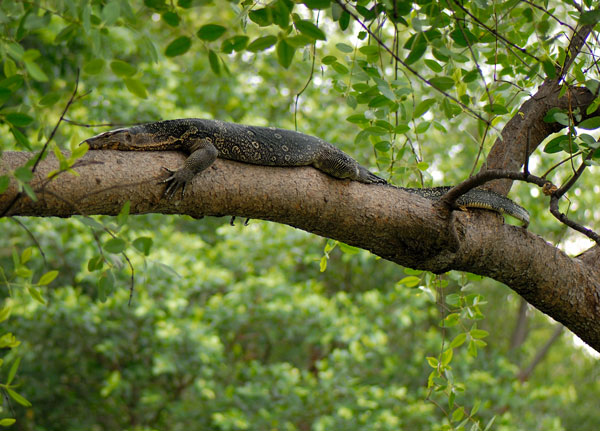 Bing/Wikimedia
Asian water monitor at Rama9 Park in Bangkok, Thailand.
---
Want to Learn More?
Asian Water Monitors in Downtown Bangkok
Actor Nicolas Cage Gives Up His Asian Water Monitor Due to Busy Schedule
Advertisement
ReptileChannel Quick-Care video-Asian Water Monitor
Nicolas Cage's Water Monitor Settling in Nicely at Wildlife Discovery Center
---
Thailand is home to four species of monitor lizard: the water monitor (Varanus salvator); clouded monitor (V. nebulosus); Dumeril's monitor (V. dumerilii), distinguished by its orange head; and rough-necked monitor (V. rudicollis).
The Asian water monitor is one of the largest species of lizard in the world, second only to the Komodo dragon in weight. It is a muscular lizard that can grow to more than six feet in length with some growing more than eight feet in length. Varanus salvator can be found throughout Asia, including Thailand, Sri Lanka, India, Indochina, the Malay Peninsula, the Philippines, and Indonesia.
Advertisement