It is estimated that there are less than 5,000 Komodo dragons left in the wild, all in Indonesia's Komodo Island National Park.
Komodo Island, one of just a few islands in the Indonesian archipelago where the Komodo dragon (Varanus komodoensis) can be found in the wild, will no longer be closed by the Indonesian government, but rather will have access restricted in an effort to control the number of tourists who visit the island each year.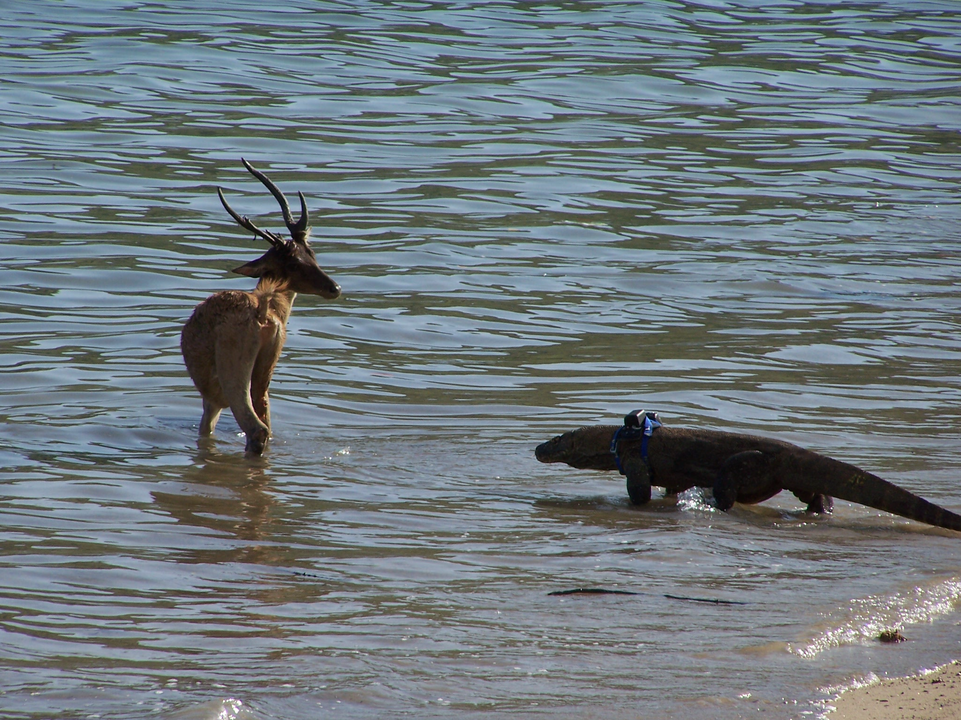 Achmad Ariefiandy
The injured East Timor deer survived an initial attack by a Komodo dragon. A second lizard, shown in the picture with a GPS tracking device was able to successfully take down the prey.

"Komodo Island will not be closed; the central and regional government, and other related parties, will manage tourism on the island, issuing a limited number of tickets for tourists each year," Coordinating Minister for Maritime Affairs Luhut Binsar Pandjaitan told the Jakarta Globe.
---
A Visit To Indonesia's Komodo National Park
Advertisement
---
While details have still not yet been finalized, it has been said that those who wish to visit Komodo island will pay a $1,000 fee for premium status which gives them access to the island for one year. The provincial and central governments will also work to improve tourism areas, provide better equipment and enhanced training for park rangers, and set up a research center for the dragons.
"Non-premium tourists will be directed to smaller islands such as Rinca. They will not be able to visit Komodo," Luhut said.
Currently, there are 1,727 Komodo dragons on Komodo island, according to the Indonesian government. There are 1,049 Komodo dragons on Rinca island.
The East Nusa Tenggara provincial administration initially planned to close Komodo island to tourism in January 2020 in an effort to protect the Komodo dragon, which is listed as an endangered species. The administration had also planned to relocate more than 1,800 residents in an effort to protect the large lizard, but residents objected, as they are heavily dependent on tourism for their livelihood.
Advertisement
Komodo dragons are the largest lizards in the world and are native to Indonesia. The large lizard is a carnivore and in the wild has been documented taking down large deer. The reptile is an endangered species, with an estimated 2,500 lizards left in the wild, all living at Komodo National Park in Indonesia.