The annual International Herpetological Symposium unites a who's who of herpetoculture.
The International Herpetological Symposium was established in 1976, and it is the birthplace of organized herpetoculture. It is where zoo professionals and private hobbyists both come to learn, teach and share the knowledge and experience they have gained while working with reptiles and amphibians.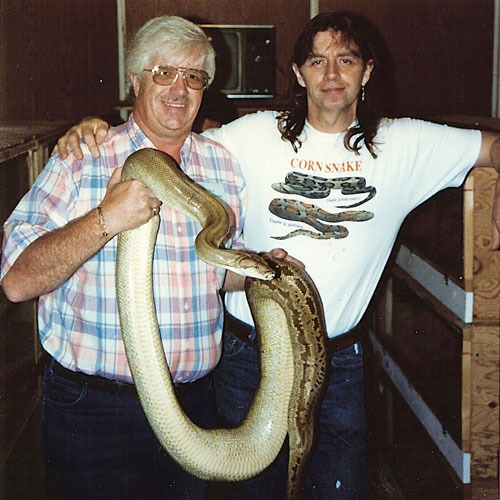 Don Hamper (left) gets a chance to handle a big python while visiting with Ernie Wagner during the Seattle IHS that was held in 1991.
Before the International Herpetological Symposium was formed, few reptiles were being bred in zoos, and details about the zoo breedings that did occur were relegated to obscure journals not readily available to nonzoo personnel. Private husbandry and reproduction accomplishments were simply lost or never recorded, and many were secrets closely guarded by reptile breeders.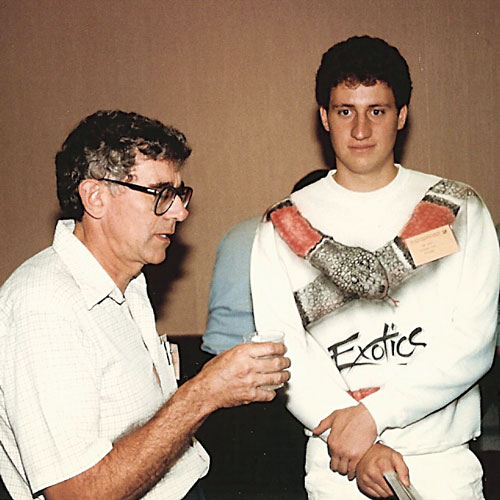 Philippe de Gain (left) and current IHS president Bob Ashley, sporting the latest in "alterna" wear, at the Chicago 1987 symposium.
This was a time before reptile magazines or the Internet, and there were no organized reptile shows. A few herpetological societies existed, but by today's standard, reptile communication was in the Stone Age. A vehicle to help disseminate reptile information was needed.
Advertisement
The First IHS
Richard Hahn hatched the idea for the International Herpetological Symposium in 1976. He recruited four sponsors — the Baltimore Zoo, the Catoctin Mountain Zoo, the Philadelphia Zoo and Clyde Peeling's Reptiland — to help pay for and organize the first annual meeting of the International Herpetological Symposium. Hahn enlisted representatives from two private zoos and two public zoos in hopes of marrying both the public and the private sectors together to help disseminate information that would benefit both groups.
The first International Herpetological Symposium meeting was held in Frederick, Md., on July 24, 1976, at the Rosenstock Auditorium at Hood College. Richard Hahn, Dr. Barbara Divers, Frank Groves and Clyde Peeling were the first organizers.
The best way to sum up what the International Herpetological Symposium was meant to accomplish is to quote Richard Hahn's introduction in the proceedings from that first meeting.
Fellow Herpetologists: It gives me a great deal of pleasure to be able to introduce this publication of the proceedings of the First Annual Reptile Symposium on Captive Propagation and Husbandry. For many years, much of this information contained in these manuscripts was considered private, privileged information unavailable to the general herpetologists at large. Those speakers whose papers are contained therein recognized the responsibility that they had and the importance of disseminating the information that they had acquired through hundreds, perhaps thousands, of hours of study and work with reptile husbandry. If it were not for these unselfish individuals' contributions, no symposium nor proceedings would have been possible. Because of them, their work may be utilized and expanded by you, the reader, and many others worldwide augmenting the herpetologists' knowledge and ultimately contributing directly to the continuation of reptilian species on the planet.
Advertisement
An impressive number of people for an inaugural event, 125, attended the first International Herpetological Symposium. Fifteen lectures focused on topics ranging from egg incubation and reptile diets to tortoise husbandry and reptile reproduction. The talks featured all-new, never-before-available information about herps in captivity.
The first International Herpetological Symposium was very well-received and continued to grow and develop over the next 12 years. The meeting would move (and still moves) to a new location each year with a different zoo hosting each time. The name changed from the Reptile Symposium on Captive Propagation and Husbandry to the International Herpetological Symposium with the eighth meeting held in Columbus, Ohio, in July of 1984.
The Animal Factor
Growing numbers of zoo professionals and private breeders were attending the International Herpetological Symposium to gain new information and socialize. It also provided an opportunity to buy and trade live animals. Although the activity was not sanctioned by the International Herpetological Symposium, it happened unofficially inside attendees' hotel rooms. This "live animal factor" did much to arouse interest in the symposium.
The animals' presence also increased tension between reptile people in the public and private sectors. Many private breeders believed zoo people looked down their noses at them and at hobbyists in general. Some zoo people did not think the private sector should be represented at International Herpetological Symposium, and as the presence of animals grew more commonplace at the annual meeting, tensions mounted.
Advertisement
The International Herpetological Symposium ad hoc board's official stance was that no live animals would be permitted at the meeting. I believe this was for two main reasons: to appease the zoo element in attendance as well as zoo sponsors, and to alleviate possible liability issues that could result from having animals in the hotel rooms. Even so, many attendees, as well as International Herpetological Symposium board members, bought herps from "vendors" who were not supposed to be there, and to this day, old-timers have fond memories of visiting breeders in their hotel rooms to check out their animals.
The animals were indeed a big draw for International Herpetological Symposium attendance. After all, there were no other avenues for this activity yet.
In Herp Heaven
Attendance at International Herpetological Symposium grew to a high of about 400 people in its heyday, around 1989, and included a who's who of industry movers and shakers. For me, the meeting provided my first out-of-state herp experience. I was already involved with two local herpetological societies in Michigan, and I was in the field almost every day looking for local herps. I was also selling and trading with other reptile enthusiasts.
Advertisement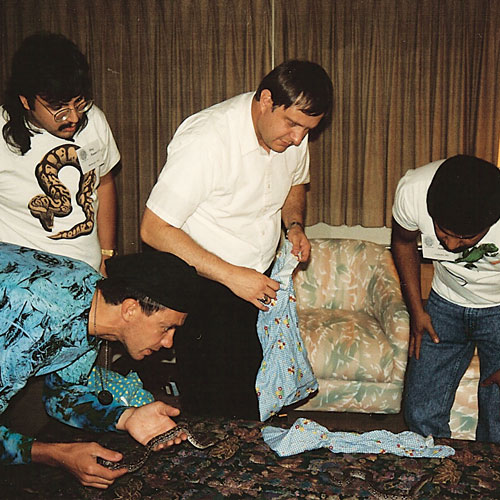 In the early days of IHS, a side feature of the symposium was checking out a variety of reptiles in people's hotel rooms.
Going to my first International Herpetological Symposium meeting — the 10th meeting, held in San Antonio, Texas, in 1986 — was a major eye-opening experience. I met herp people of greatness I had barely heard of before. The talks were about animals I could only dream of, let alone know someone who was working with and breeding them.
Many of the stories were of great adventures. I was 19 years old and more of a greenhorn than I had previously realized. I quickly learned I knew little about herps compared to all the herp gurus I saw at International Herpetological Symposium. Guys like Don Hamper, Bob Applegate, Tom Widner, Louis Porras, Ernie Wagner and Joe Laszlo, to name a few, were always there with great stories and herp advice.
Advertisement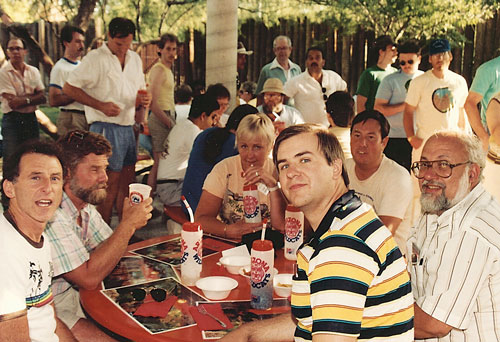 Picnics, barbecues, visits to zoo herpetological departments and other events are a regular part of IHS festivities.
As far as field herping information, I was in paradise at IHS meetings. Experts gave me 30 years of experience for the cost of a beer. Every year I learned much about the local fauna, and where and when to look for it. The herping aspect has always been one of my favorite things about International Herpetological Symposium. It's great getting out in the field at each new International Herpetological Symposium location to look for local herps, and you'll see other attendees doing the same.
As mentioned, the International Herpetological Symposium moves around. It is never in the same location two years in a row. Past venues have included Denver, San Antonio, New Orleans, San Diego, Dallas, St. Louis, Detroit, Seattle and Chicago.
But the symposium isn't always in U.S. cities. In 1997 it was held in Liberia, Costa Rica, and in 2007 it was in Toronto, Ontario, Canada.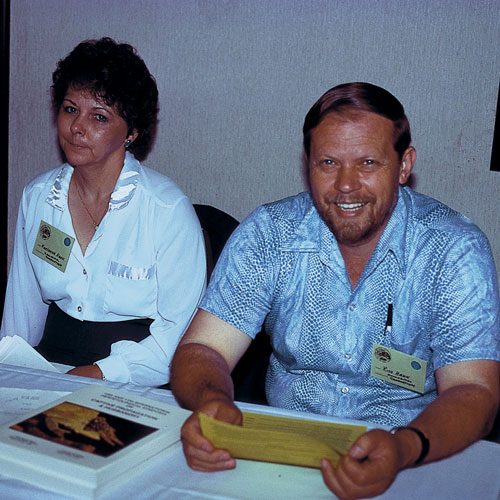 MaryAnn and Richard Hahn in 1988. Enlisting representatives from public and private zoos, Rick originated the idea for the International Herpetological Symposium in 1976.
Moving the International Herpetological Symposium keeps the meeting fresh and new, and brings in local herpers and herpetologists who may be unable or unwilling to travel long distances to attend. Once attendees get a taste of how much information and fun is to be had, many become part of the regular national and international attendance.
Each year a different zoo hosts International Herpetological Symposium, and a new program coordinator is chosen each year, as well. The program coordinator — typically a representative from the host zoo — is integral to International Herpetological Symposium because this person arranges the speaker lineup. Having a new program coordinator every year is very important because that individual brings new contacts and local flavor to the meeting. If the same program coordinator was in charge every year, attendees would experience a less-diverse group of speakers and topics. For example, if I were the permanent program coordinator, some people would get sick of rattlesnake talks being presented every year.
Changing Tides
The annual National Reptile Breeders' Expo, currently held in Daytona Beach, Fla., came about because of International Herpetological Symposium. The show's organizer, Wayne Hill, was a regular attendee at International Herpetological Symposium, and he had an idea for a separate reptile show held concurrently in the same city as the 1990 International Herpetological Symposium, which was scheduled for Orlando. He thought this would provide IHS attendees (and others) an outlet to buy and sell animals, which would subsequently alleviate past conflicts with zoo politics in regard to live animals being present at symposium meetings.
The 1989 International Herpetological Symposium board had polled attendees at the Phoenix, Ariz., International Herpetological Symposium on this idea, and about 98 percent were in favor of it. Despite this, however, the IInternational Herpetological Symposium board chose not to go this route and changed the location of the 1990 International Herpetological Symposium from Orlando to Dallas. Hill stayed in Orlando and held the first NRBE in August of 1990.
It was at this time that many people became unhappy with the International Herpetological Symposium board, and as the years progressed, symposium attendance decreased. Also affecting attendance was an increase in the other sources of reptile information. Four reptile magazines were in publication, and live reptile shows and swaps were springing up everywhere. The NRBE eventually usurped the title of "Big Annual Reptile Gathering" from International Herpetological Symposium, and at its lowest point, the symposium lost more than half its original attendance.
IHS Resurrected
The good news is that IHS has begun to flourish again. Recent past presidents Bill Becker and Joe Marek, along with their ad hoc boards, deserve much of the credit for this comeback. Donating personal funds when necessary, they trimmed a lot of fat from the International Herpetological Symposium budget.
Great speakers from around the world are enlisted for International Herpetological Symposium, icebreakers provide camaraderie, and field trips are well-organized and a lot of fun. Because of the many live animal shows currently being held around the country, few to no animals are seen in International Herpetological Symposium hotel rooms any longer. For the breeders in attendance, this provides a welcome break from animal care, and they can relax and have a great time interacting with peers while learning more about what they love — herps!
The current ad hoc board and advisors are comprised of a mix of private herpetoculturists and zoo professionals. The International Herpetological Symposium today is very pro-private herper: the vice president, treasurer, last two presidents and the current president (me) are members of the private sector who love and keep herps.
The International Herpetological Symposium enjoys the participation of old-school as well as up-and-coming private breeders, herpetoculturists, herpetologists and zoo professionals. It provided the foundation of much of the breeding successes that support and drive today's herpetological industry, and I sincerely hope the trend continues as more and more herpers learn about and attend this great event.