It is unclear if the dog was dead or alive, or what type of snapping turtle is kept at the school.
A popular science teacher at Preston Junior High School in Preston, Idaho, is under investigation for apparently feeding a puppy to a snapping turtle that is kept in his class. According to East Idaho News, the teacher, Robert Crosland fed the puppy to the turtle after school hours, although some students apparently witnessed the feeding. Some news reports state that the puppy was dead, while others say the puppy was alive, but apparently in such ill health that it wouldn't have survived as a pet.
Advertisement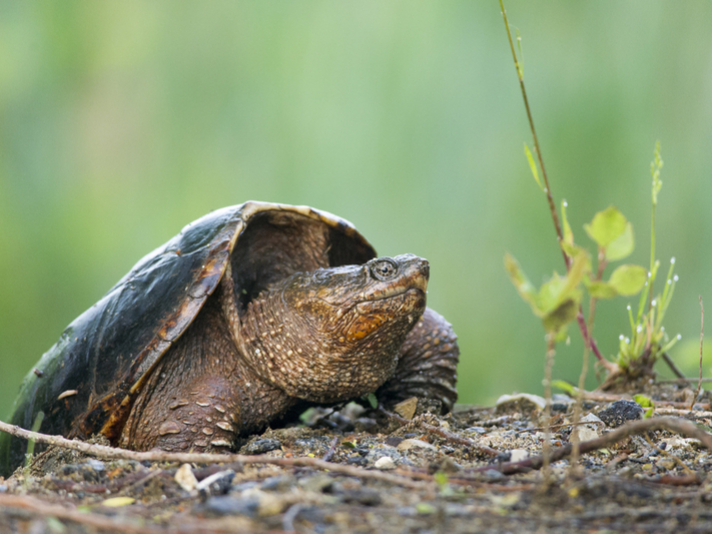 Ray Hennessy/Shutterstock
This is a common snapping turtle. It is unclear what species of turtle is at Preston Junior High School.

Crosland is apparently a very popular teacher at the school who keeps other reptiles, including snakes, in his science class.
"He is a cool teacher who really brought science to life," a former student told East Idaho News. "I loved his class because he had turtles and snakes and other cool things."
Advertisement
Crosland has not been cited or charged, and continues to teach as the investigation continues.
---
Chinese Man Feeds Puppy to His Python And Gets Some Serious Flack
---
The school district wrote in a press release dated March 9 that it does not condone the apparent action by the teacher.
"While the district certainly does not condone individual actions that may violate district policy or reasonable expectations of behavior, we hope that any errors in judgement made by a teacher in this instance will not cause us to forget the years of care, effort, and passion the teacher has given to students in Preston School District."
Advertisement