Krause's passion for reptiles turned into a profession.
When the Krause family converted their home from coal to oil heating back in the early 50s, they may not have realized at the time that they were encouraging 6-year-old Bob's love of animals, but that is exactly what happened. The enthusiastic youngster took all the coal bins from the basement, scrubbed them down and recycled them for his hobby room. Although he started with only one turtle, by the time he turned 10 years old, Bob had more than 100 chelonians of various species in his care, along with several birds, fish, snakes and amphibians. This was, however, during a time before the Internet, and many of the mainstream books and magazines about reptiles weren't even available. Bob Krause learned his husbandry skills the old-fashioned, hands-on way.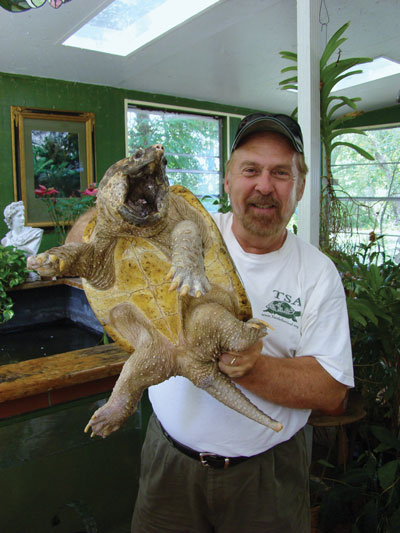 Robert Krause and a very alert snapping turtle.
Lucky for Bob, and his pets, he had a gift for animal care and quickly progressed to breeding them. No doubt, his natural curiosity and desire to observe animals in nature helped. In fact, his passion would ultimately take him around the world to places like Madagascar, the Galapagos and the Amazon to photograph turtles and tortoises in their natural environments.
It is no great surprise that Bob forged a professional path that would focus on the animals he loved so much. In 1971, he founded Noah's Ark Pet Center in Elk Grove Village, Ill. The 10,000-square-foot, state-of-the-art retail store was billed as the world's largest pet center. Known for its cleanliness and quality products, it became the flagship of what would eventually turn into a 23-store retail chain, spanning three states. The chelonian poster that hung in Bob's office said it all: "Behold the turtle, for he only makes success when he sticks his neck out." And Bob had. He founded his empire with only $11,000 in savings, a $25,000 SBA guaranteed bank loan and a considerable amount of hard work. But he was only just beginning.
In 1978, he founded NAPCO Distributing Company, a pet supply wholesaler, which eventually evolved into a pet accessory designer and manufacturer. Then, in 1983, he formed NAPCO International Ltd., and he traveled around the world to source new pet products. As his three companies grew, Bob realized that it was time to vertically integrate and, in turn, folded NAPCO into a newly aquired company, Pets International Ltd., and its brand name, Super Pet. The Super Pet products quickly earned a top spot on the shelves of major retailers, including Petsmart, Petco, Walmart and Target, as well as at independent pet stores across the country.
Always looking to be on the edge of innovation, Bob then built a domestic manufacturing and assembly operation in 1995 and called it ACCUTEC Systems Inc. This company focused on plastic injection molding, assembly and packaging, and became the heart of Super Pet products earning countless awards for innovation and new product development. Although he wasn't initially interested in selling his company, in 2005 he eventually accepted an offer from Central Garden & Pet Co. After running both Super Pet and Kaytee, per their agreement, he left in 2008 for new challenges.
Advertisement
As a perpetual entrepreneur and a founding member of an international CEO organization called Vistage International (formerly called TEC), starting a new venture came naturally to Bob. Today, he owns ARK Innovative Solutions, a consulting firm that focuses on product development, global sourcing and new business start-ups. He has also turned his focus to one of his lifelong passions, chelonian conservation. As a member of the Pet Industry Advisory Board, the Pet Industry Joint Advisory Council, the Chicago Herpetological Society, the Turtle Survival Alliance (TSA), the Chelonian Research Foundation (CRF), and the Turtle & Tortoise Propagation Group (TTPG), Bob stays active in the reptile industry and seeks to promote captive breeding of various rare tortoises and turtles, along with his personal conservation projects with indigenous aquatic species in their natural environments.
Bob Krause's passion for herps has spanned more than 45 years, and it doesn't appear to be slowing down any time soon. Bob's mantra is to, "Find your passion, really focus on it, and then figure a way to make it your lifelong career. It will serve you well." REPTILES