Three turtles (Chelonia mydas) from state's first known nest have hatched.
The green sea turtle (Chelonia mydas) is known to nest in areas with warm climates, but in Delaware? That is a rarity. However, three green sea turtles have successfully hatched from the first known nest in the First State, according to news site Delaware Online. According to the report, a green sea turtle in August nested at the high tide zone on the beach at Herring Point and laid 149 eggs in what is believed to be the first documented sea turtle nesting in the state.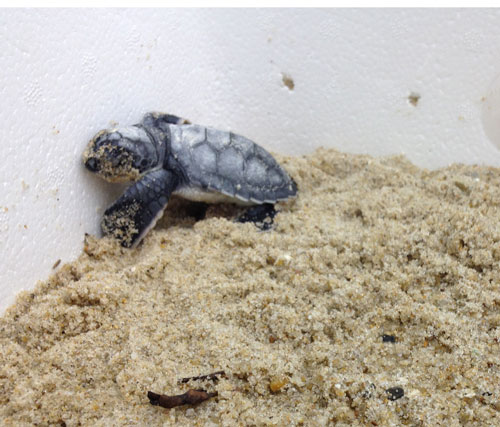 The MERR Institute
One of the first sea turtles to hatch in the state of Delaware.
First discovered by Cape Henlopen Park Ranger Curtis Reynolds on routine patrol, Reynolds taped off the nesting area and contacted U.S. Fish and Wildlife and Delaware's marine rescue organization, the Marine Education Research and Rehabilitation Institute (MERR). It was determined that the nest was too exposed, so officials received permission from USFW's Northeast Endangered Species officials to move the eggs.
While the movement protected the eggs from the high tide zone, two hurricanes and a cold snap were not in the plans, so officials moved the eggs Oct. 5 to a climate controlled laboratory at the University of Delaware's College of Earth, Ocean and Environment in Lewes, where scientists emulated the natural environment as much as they could.
With the three sea turtles hatched, and more on the way, the officials are waiting for permits to move the hatchlings and remaining eggs to North Carolina's Pine Knoll State Aquarium where the chelonians will be assessed to determine when they will be released. Below is a video from the MERR Institute showing the transfer of the sea turtle eggs in October.
Advertisement