Actress Betty White worked with Jacob the Boa in 2011.
Betty White has supported animal welfare most of her life and for her 91st birthday, one of the companies that White is a spokesperson for adopted a boa constrictor (Boa constrictor imperator) at the Los Angeles Zoo in her name. The snake, named Jacob is also no stranger to Hollywood, having appeared with White in Luciana's 2011 music video "I'm Still Hot."
"Jacob the boa constrictor is good as gold and cuddles in my arms, and around my neck" White said in a statement.
Advertisement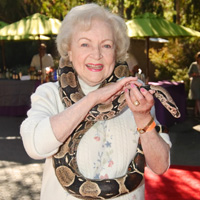 Photo courtesy Los Angeles Zoo and Botanical Garden
Betty White and Jacob.
White who turned 91 January 17, says she already has everything that she could ever hope for, and wants those who wish to celebrate her 91st birthday to help raise $10,000 for the Morris Animal Foundation. White is a spokesperson and board member of the foundation, which works to support "scientific research that advances veterinary medicine." As of January 18, donations to the Morris Animal Foundation for "Betty White's Birthday Wish" stand at $7,698.
Advertisement