Groups claim service not doing enough to protect sea turtles
Click image to enlarge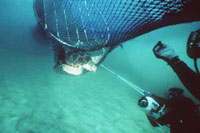 Loggerhead turtle escaping from TED device during testing. Photo credit: NOAA.
Four conservation groups, the Center for Biological Diversity, Turtle Island Restoration Network, Defenders of Wildlife, and Sea Turtle Conservancy have sued the National Marine Fisheries Service, claiming the service has not adequately protected sea turtles from shrimp trawlers in the Gulf of Mexico and southeast Atlantic Ocean, according to a press release put out by the Center for Biological Diversity.
In their lawsuit, the groups say that the Fisheries Service has not adequately monitored the use of turtle excluder devices, or TEDs on shrimp trawlers. The devices, which are effective in reducing turtle bycatch, are currently not required as standard gear for all shrimp trawlers. The conservation groups are hoping that the use of TEDs, which have proven to be effective in safely releasing sea turtles caught in trawl nets will be required to be used on all shrimp boats.
Advertisement
U.S. government regulations require that the devices perform with 97 percent effectiveness. The devices were developed jointly over the last 25 years between the Fisheries Service and the commercial shrimp trawl industry. Initial designs failed to allow the release of larger species such as the leatherback turtle and have since been redesigned to enable their release.