Scoot Reeves walking with his new wheelchair.
A wild box turtle that was brought into the Hillman Veterinary Clinic in Pensacola, FL with a crushed shell is "walking" again thanks to a custom wheelchair built a company that specializes in wheelchairs for paralyzed animals.
Advertisement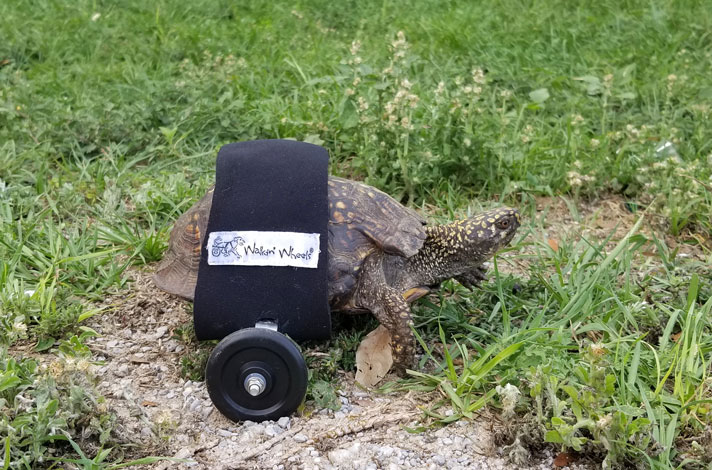 Walkin' Pets by HandicappedPets.com
Scoot Reeves walking with his new wheelchair.

Scoot Reeves was brought to the clinic after he was injured by a front loader. It was determined that his rear legs were paralyzed from the accident and his shell was crushed.
Advertisement
---
Injured Eastern Box Turtle Outfitted With Legos To Help Him Move About
---
When the veterinarian suggested that Scoot be euthanized, vet tech's Sasha Corbett and Shannon Chavers pleaded with the doctor to do what he could to save the reptile, and also got in touch with Jason Parker from Gunnar's Wheels in hopes that he would help Scoot get mobile. And he did. He worked with Walkin' Pets by Handicappedpets.com and helped to construct a specialized wheelchair for Scoot.