More studies needed to determine if Sceloporus graciosus will be listed as endangered species.
The U.S. Fish and Wildlife Service has delayed its decision whether to add the dunes sagebrush lizard (Sceloporus graciosus) to the Endangered Species list, saying more time was needed to study additional scientific data on the species as well as the habitat in which it resides. Those opposed to the listing of the lizard have claimed the data previously used is based on faulty and inadequate science. In a letter sent last week to Interior Secretary Ken Salazar, U.S. Sen. John Cornyn, R-Texas, who asked for the six month delay, questioned the agency's protocol for surveying the lizard, saying the surveys were only conducted where the reptile was historically found and didn't take into account new potential areas the lizards may have moved into and established populations. The federal wildlife agency was asked by environmentalists in 2002 to place the lizard on the Endangered Species list in 2002, saying oil and gas activity has reduced the animal's habitat, heavily curtailing the reptile's capability to survive.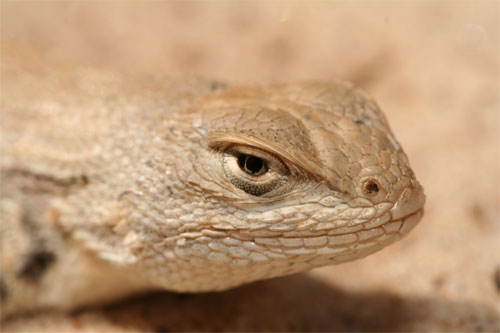 USFWS has delayed listing of the dunes sagebrush lizard as an endangered species, citing more studies are necessary.
They said the listing would not stop oil and gas exploration and development because the lizard's habitat accounts for less than 1 percent of all lands in the Permian Basin. Proponents of the oil and gas industry claim that listing the reptile as an endangered species would have adverse effects on the region's oil and gas production, and would lead to massive job losses in the oil and gas industry in which the sagebrush lizard can be found.
The USFWS says that the lizard is in danger of extinction due to threats of habitat loss and habitat fragmentation. The threats include oil and gas activities, which is a major source of revenue and jobs for the affected area, the use of herbicides, the loss of Shinnery Oak, a low growing shrub in which the dunes sagebrush lizard seeks refuge, and the building of roads, pipelines and power lines to support oil and gas development.
More information on the lizard can be found here.