A desert tortoise had the most unusual insurance claim in May at Veterinary Pet Insurance.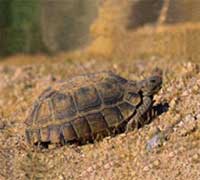 A pet insurance claim for a desert tortoise (Gopherus agassizii) was voted most unusual for the month of May by the claimant's insurance company.
*UPDATED
Veterinary Pet Insurance employees selected a desert tortoise for the most unusual insurance claim submitted to the company in May.
Brandie Keaveny of Ramona, Calif., took her desert tortoise Charlie to get emergency care last month. "I came home from work and was playing ball with my dog," Keaveny said. "Charlie was eating grass and came over to me when he saw me. As he got closer, I noticed there was something wrong with his head. His scalp skin was pulled forward like a sardine can, exposing bone and muscle, and skin was off his ear."
Keaveny needed to get 50-year-old Charlie help fast, but with her regular veterinary office closed for the day and most after-hour emergency hospitals unable to treat an exotic pet, she had few options. "After an hour of calling around," Keaveny said, "I found an office that had hours until 9 p.m. and would see a tortoise. We got him in and the doctor agreed that this was the strangest thing he had ever seen with a tortoise."
With no defensive wounds or tooth and claw puncture marks visible, the veterinarian on duty said Charlie's injuries had not been caused by an animal attack. Because the skin on Charlie's scalp had been pulled forward, Keaveny and the veterinarian said that the tortoise had probably been resting under a low hedge, had managed to get his head caught on a branch, and pulled his head too quickly into his shell, scraping the skin as he went.
The veterinarian prescribed a month's worth of antibiotic for Charlie, and the tortoise wore his stitches for several weeks. Of Charlie's experience, Keaveny said, "He acts like nothing has happened and is doing really well."
As the most unusual claim submitted in May, Keaveny's claim has been placed in the running for the 2010 VPI Hambone Award. Each month, VPI employees nominate the most interesting claim submitted, and from Aug. 2 through Aug. 16, 2010, you can vote for the most unusual claim of the year. To vote for one of the 12 nominees, visit vpihamboneaward.com.
The VPI Hambone Award is named in honor of a VPI-insured dog that got stuck in a refrigerator and ate an entire Thanksgiving ham while waiting for someone to find him. The dog was eventually found, with a licked-clean hambone and a mild case of hypothermia.
Honorable mentions in May included a Yorkie that was struck in the head with a frozen hamburger patty, a mixed-breed dog that licked a cactus, an English bulldog that ate steel wool scouring pads, and two unrelated incidents in which dogs fell from two- and four-story windows, respectively. All pets considered for the award made full recoveries and received insurance reimbursements for eligible expenses.