Snake breeder takes case to higher court in attempt to save his business.
A snake breeder in Coon Rapids, Minn. who lost his appeals to keep his home-based snake breeding business open in the city, is taking his case to the Minnesota Court of Appeals.
---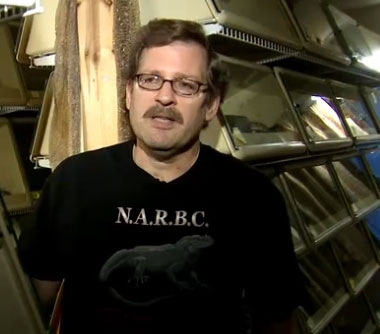 Advertisement
Screen grab courtesy Fox 9 News
Scott Nellis is taking his case to the Minnesota Court of Appeals after losing his appeal to keep his home-based snake breeding business open.
---
Scott Nellis, who has been breeding snakes in his home for more than 16 years was cited by the city last year for keeping "non-domestic" animals in his home and running an illegal business in his home. Nellis was ordered by the city's four member board of adjustment and appeals to remove all animals that were prohibited by the city code and to reduce the physical size of his home business to no more than 25 percent of the home's habitable square footage, according to a report in the Coon Rapids Herald. The board also ordered Nellis to pay a $300 civil penalty, giving him until April 6, 2013 to pay the penalty and to comply with the order. Because Nellis cannot appeal the actions of the board to the Coon Rapids City Council, he elevated his case to the state court of appeals.
In 2010, the city passed an ordinance banning the possession of pythons and boa constrictors, and recently introduced another that limits the number of domestic animals to 12, which Nellis said in October was targeted directly at him and would put him out of business. For more information on this case, visit this news item from October 2012.
Home-based snake breeding businesses have been embraced in some cities in the United States. In Griswold, Conn., snake breeder Randy LaPorte initially received a cease and desist letter from the city after a complaint of a "foul" order that was allegedly emanating from his property. The city found that he failed to obtain a permit to conduct business out of his home. After local commissioner Erik Kudlis and members of the New England Herpetological Society toured his home and came away impressed at the cleanliness of the facility and the lack of any foul order, the city council reversed course and issued a permit that enabled him to continue conducting business out of his house.
Advertisement