This facility is impressive.
Reptile Industries, the reptile farm owned by Mark and Kim Bell and located in Naples, Fla., is an impressive facility to say the least. I had the good fortune to visit recently, and my brain was boggled by the place. I was there with REPTILES Ad Director Sandy Quinn not only to tour Reptile Industries, but to discuss the exciting steppe runner lizard contest we're announcing on page 44 as part of our twentieth anniversary celebration. Reptile Industries is one of the contest sponsors, and will be giving a live steppe runner to each of the 20 contest winners!
---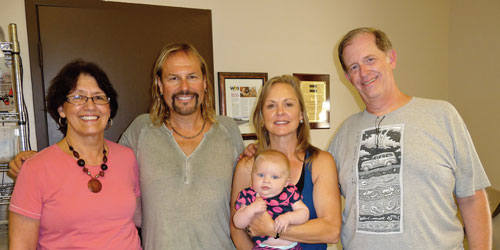 Pictured left to right: Sandy Quinn, Mark Bell, Kim Bell with granddaughter Adalde, Russ Case.
---
I just wanted to use this space to thank Mark and Kim, and Phil Goss, too, for playing tour guide and showing Sandy and me around. We even got to do some night-time road-hunting in Everglades National Park, where the primary herp sighted was the scarlet kingsnake (we saw three). Thanks to everyone!