Red-eared slider turtles, like all reptiles, carry Salmonella.
The Center for Disease Control has announced that 21 people in 13 states have been infected with a strain of Salmonella Oranienburg that was most likely contracted from pet turtles. There have been seven hospitalizations. Thankfully, no deaths have been reported. The CDC says that epidemiologic and traceback evidence point to the reptiles as the likely source.
---
Keeping a Turtle? Here are Some Tips All New Turtlekeepers Need To Know
---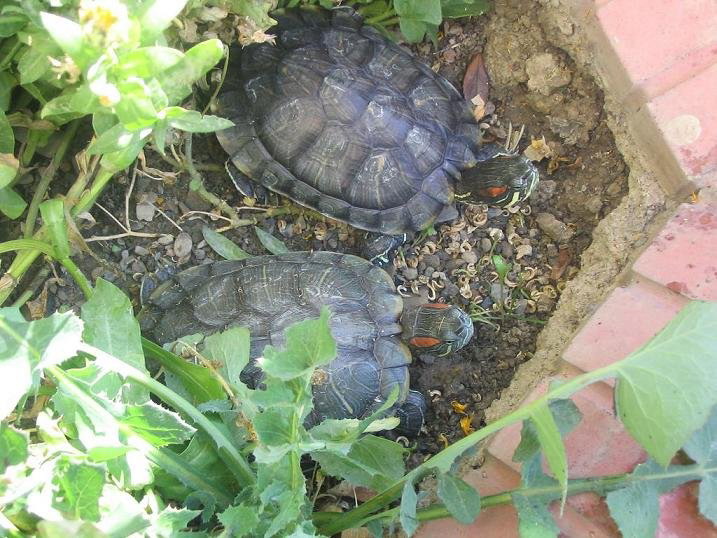 Arashkashani/Wikipedia
Red-eared slider turtles, like all reptiles, carry Salmonella.
The CDC interviewed the people and found that 12 of 17 of those who cotracted salmonella had handled a turtle. The illnesses started around May 29, 2019 to September 3, 2019.
Advertisement
The illnesses were reported in the following states: States and number infected.
California 6
Colorado 1
Georgia 1
Illinois 2
Indiana 1
Iowa 1
Michigan 1
Nebraska 1
New Jersey 1
New York 2
Tennessee 1
Vermont 1
Washington 2
Total 21
The CDC has provided the following guidelines when handling turtles and other reptiles, which are all known to carry Salmonella.
Wash your hands completely with soap and water after handling any reptile or its enclosure. Supervise children when they wash their hands.
Don't kiss or snuggle with turtles or other reptiles this can spread Salmonella to your face and mouth.
Clean and disinfect your reptile's enclosure and the items inside it outside the house when possible.
Consider a different pet for those with children under the age of 5 or adults over the age of 65.
Pet stores, reptile breeders and those who sell reptiles as pets should better educate their customers on safe handling of turtles, snakes, czars and other herps.
Those considering the purchase of a red-eared slider or other turtle should do so from a reputable pet store or turtle breeder and not from street or swap meet vendors or other vendors that don't follow the law. Turtles with shell lengths of less than 4 inches should not be purchased as pets or given as gifts, according to the CDC.