Native to the Amazon Rainforest, the tiger-leg monkey frog (Phyllomedusa tomopterna) is an attractive and interesting amphibian to keep in captivity
Native to the Amazon Rainforest, the tiger-leg monkey frog (Phyllomedusa tomopterna) is an attractive and interesting amphibian to keep in captivity with proper care and frog supplies. They are nocturnal and sleep all day long, but at night they wake up and spend their time soaking in a water dish, searching for food, and vocalizing if male. In many ways, their behavior and care is similar to the more familiar red-eyed tree frog (Agalychnis callidryas) and if you have experience maintaining this species in captivity you are well-suited to work with a group of tiger-leg monkey frogs.
Advertisement
Availability
Captive-bred tiger-leg monkey frogs are only occasionally found for sale. Wild-caught ones are seen seasonally in the pet trade. Always go with captive-bred individuals since wild-caught ones can be difficult to acclimate to captivity. Tiger-leg monkey frogs are sold under several common names including super tiger-leg monkey frog, tiger-striped monkey frog, and barred leaf frog.
Another monkey frog, Phyllomedusa hypochondrialis, is also sometimes sold under the common name tiger-leg monkey frog, but lacks the complete orange-black bands which run fully along the flanks and inner legs in P. tomopterna. P. tomopterna also has heels pines and grows slight larger than P. hypochondrialis.
---
Read More
How To Breed Tiger-Leg Monkey Frogs In Captivity
Treefrog Named After Prince Charles
Advertisement
---
Size
Males grow to between 1.5 and 2.0 inches, while large females may reach nearly 2.4 inches in length.
Housing
Tiger-leg monkey frogs can be housed in standard glass aquariums with screen covers, large plastic boxes with holes cut in the cover and screen secured in place, or in special front-opening herp enclosures. A standard 20-gallon aquarium or other housing of similar size is enough room for six to eight adult frogs. Juveniles can be kept in small enclosures.
Frog Substrate and Furnishings
Moist sphagnum moss, such as the Zilla Fir & Sphagnum Peat Moss Mix Reptile Bedding, works well as a substrate so long as it is patted down flat. A simpler option is to use moist paper towels, though these will need to be replaced several times each week. Over the substrate include a large water dish 1-2 inches deep. Fill it with amphibian-safe water. Tap water usually works well if treated with a chemical for aquariums that removes chlorine and chloramines, such as the Zilla Aquatic Reptile Water Conditioner. The water dish should be changed every day since tiger-leg monkey frogs regularly defecate in it at night.
Advertisement
In addition to a substrate and water dish, also include reptile habitat accessories like perches, such as branching pieces of driftwood, and lots of plants with large supportive leaves. Artificial plants can be used if you do not want to grow live ones. Plants are very important since tiger-leg monkey frogs often spend the days asleep on their leaves.
Frog Lighting and Heating
Provide a photoperiod of 10 to 12 hours per day. It can be helpful to plug lighting into an automatic timer so lights go on and off at the same time every day. Offer low-strength UVB lighting, such as the Zoo Med Reptisun 5.0 UVB Fluorescent Mini Reptile Lamp, positioned over a screen section of the enclosure above an area where the frogs sleep during the day.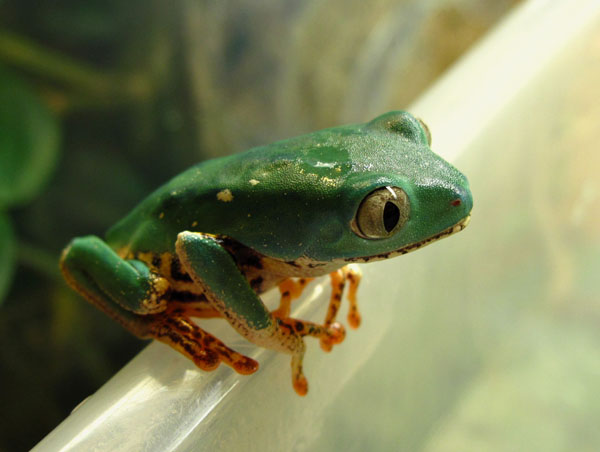 Advertisement
Devin Edmonds
Tiger leg monkey frogs are called as such due to their tiger-like coloration on their legs.
A temperature range between 75 and 82 degrees Fahrenheit works well for tiger-leg monkey frogs. You can use a low-wattage incandescent light bulb, such as the Zilla Day Blue Incadescent Reptile Bulb to heat the terrarium if needed. At night the temperature can drop by 5-10 degrees. Mist the terrarium with a reptile mister at least once per day to keep the substrate moist and humidity levels between 50% and 80% most of the time, nearing 100% directly after misting. Temperature and humidity can be monitored with devices such as the Zoo Med Dual Analog Temperature and Humidity Gauge.
Frog Food
Providing a varied diet of live insects is important to the long-term health of captive monkey frogs, which can be found in the live reptile food sections of pet stores or reptile shops online. Crickets, house flies, and the fruit fly Drosophila hydei can be offered to adult frogs at least once every five days or more frequently, in quantities of around two to eight food items per frog. Juvenile frogs must be fed every night. Roaches and wax worms can also be offered. Feed at night when tiger-leg monkey frogs are awake, active, and ready to eat.
Use a high-quality vitamin and mineral supplement to help avoid nutritional deficiencies and imbalances such as the Exo Terra Multi Vitamin Reptile & Amphibian Supplement. Coat food items in the powdered supplement before every feeding for juvenile frogs and at every other feeding for adults. This supplement should contain calcium, vitamin D3, vitamin A, and be phosphorus-free. Make sure to replace the supplement every 3-6 months since the quality of vitamins degrade overtime once opened.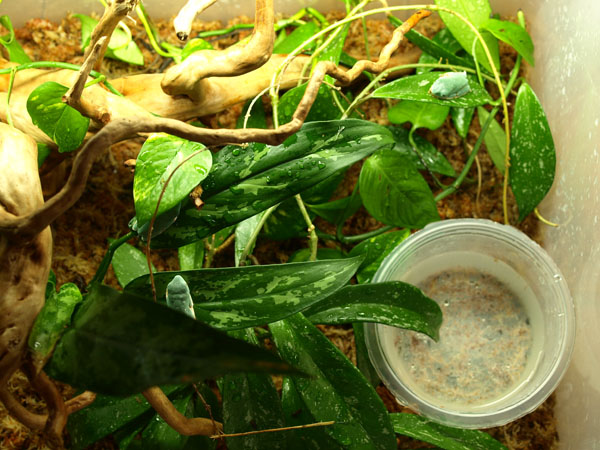 Devin Edmonds
Provide plenty of vegetation that is suitable for the tiger leg monkey frog to climb.
Handling
Monkey frogs are not a good species of frog to handle. They are delicate amphibians and are best kept as display animals in an attractive terrarium. In situations where they must be handled, for example if cleaning the enclosure or inspecting the health of an individual, make sure your hands are clean and slightly wet to avoid harming the frogs. Alternatively you can wear powder-free disposable gloves.