Dr. Paul Gibbons received the 2009 Exotic DVM of the Year award.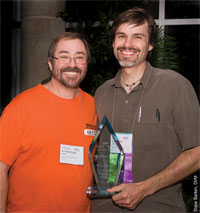 Dr. Paul Gibbons holds his 2009 Exotic DVM of the Year award. Dr. Kevin Wright, winner of the 2008 award, stands next to him. Photo by Steve Barten / Courtesy Zoological Education Network.
As far as one veterinary magazine is concerned, a Milwaukee, Wis., veterinarian is the exotic vet of the year.
Exotic DVM presented Paul Gibbons, DVM, Diplomate ABVP (avian), with the 2009 Exotic DVM of the Year award during a joint conference in Milwaukee.
Advertisement
Gibbons was surprised and honored by the distinction. "I had thought, maybe if I dedicate myself and work hard, maybe I might have the good fortune to earn something like this in a few decades, so I was very surprised," he said. "There are so many others who also deserve recognition for their contributions. I am truly honored that I was chosen this year."
Exotic DVM readers nominate practitioners for the annual award. According to the magazine's website, the award is given to an individual extraordinarily competent with all species of exotic pets, dedicated to advancing the exotic-animal medicine profession through quality work, deeply involved in the education of veterinary students and clinicians, and serving as an ambassador of good will.
An active member of the Association of Reptilian and Amphibian Veterinarians, Gibbons has worked with herps, invertebrates and many other animals during his career. He currently directs the exotic species specialty service at Animal Emergency Center in Milwaukee.
Gibbons is also active with other projects related to herp medicine. Among them, he is an associate editor for the Journal of Herpetological Medicine and Surgery, and he chairs the organizing committee for specialty certification in Reptile and Amphibian Practice, a new specialty the American Veterinary Medical Association recognized this summer.