Cottonwood Heights limits snake ownership to just one.
A snake collector in Cottonwood Heights, Utah has been told by the city to get rid of all but one of his 29 boa constrictors. Thomas Cobb, 29, moved into his new home in the city 10 months ago and even built a room specifically designed to house his collection of constrictors. He was cleaning a new plastic tub in his front yard when a neighbor saw what he was doing and called the police, according to a report in the Deseret News. When police arrived, they found 14 five foot boas and 15 four foot boa constrictors in what the police said were very clean and professional enclosures. Nevertheless, the police cited him for failure to obtain an exotic pet permit. And the city permit allows for just one snake.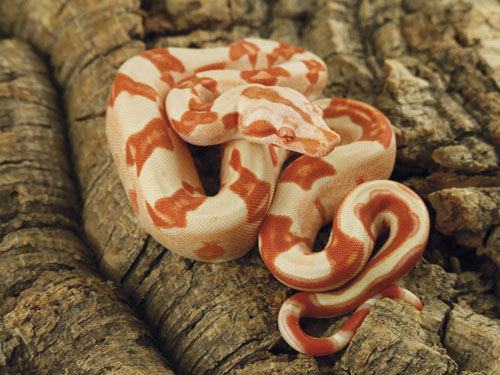 John Bergman
Male Sunglow Boa Constrictor
"They gave me a week to relocate the animals," Cobb told the paper. "I have no location to take them to. The room was purposely built to house these guys in the best ambient conditions possible for their health. I have nowhere else I can take them. I don't have another property. I don't have another house. I don't have a warehouse. These were a private collection in my private residence in a room specifically built for these animals."
---
Want to Learn More?
Caring for the Red-Tailed Boa Constrictor
---
Cobb, who earned a college degree in biochemistry with an emphasis on genetics and mutation, told the paper that his ignorance of the law is not an excuse for not getting a permit, but he still has a week to move them out of the city. He also said that he will retain a lawyer in an effort to keep his snakes, all of which are morphs that he bought upward of $12,000 a piece.