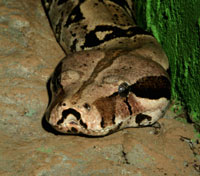 Boa constrictor. Photo credit: Shutterstock
The sixteenth version of SB 310 has passed out of the Ohio Senate on April 26, 2012 and thereafter moved to the Ohio House of Representatives. Even in its revised form SB 310 is over reaching and will have a huge and negative impact on Ohio's reptile breeders and owners. SB 310 still allows any additional species to be added without legislative process by the Director of Agriculture through administrative rule. Standards of care remain undefined.
On May 2, 2012, the Ohio House of Representatives Agriculture and Natural Resources Committee held the Sponsorship Hearing on SB 310 wherein Senator Balderson presented SB 310 to the House Committee and provided limited proponent testimony. SB 310 is set for further committee hearings on May 8th and May 9th, 2012. Proponents and Opponents will be allowed to testify on those dates.
USARK opposes SB 310:
Boas are NOT safe and ANY additional species can be added after two years by administrative rule;
The insurance/surety bond requirements as written in the current version are either not obtainable or may be so onerous that the cost will preclude nearly all breeders from meeting the requirements;
The standards of care are not defined and administrative rules could impose standards of care that are so impossible as to represent a ban on all permits;
Constrictor snakes continue to be included in the current version.
USARK has submitted a full substitute bill to the State House Agriculture and Natural Resources Committee. USARK has already had meetings with members of this committee and has several more scheduled in the coming days to discuss our proposed substitute bill.
Call for Action!
Please come to the hearings on May 8th @ 3pm- ??? & 9th @ 3pm-???, and testify against SB 310. In order to testify, your written testimony must be submitted to Chairman Hall's aide, Michael McGuire by noon on Monday, May 7th.
Michael I. McGuire
Legislative Aide
State Representative Dave Hall, 97th District
michael.mcguire@ohr.state.oh.us
Office (614)466-2994