Society obtained permission to house them from Philippine government.
Click image to enlarge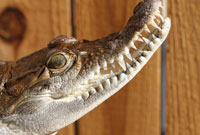 Crocodiles mindorensis. Photo by Phoenix Herpetological Society
Two rare Philippine crocodiles (crocodiles mindorensis) have been added to the collection of reptiles at the Phoenix Herpetological Society. Known as the Mindoro crocodile, the reptile grows to about 10 feet in length and is listed by the International Union for Conservation of Nature and Natural Resources as critically endangered. The society was given permission by the Philippine government to house the crocodiles, which will be part of the society's repopulation breeding program. The crocodiles were sent from the Gladys Porter Zoo in Texas, which has been caring for them. Any offspring from the pairing of the two crocodiles will be placed into other facilities determined by the Philippine government.
The society will showcase the crocodiles during holiday season tours of the facility. The tours will be by reservation only from December 17-January 5. For more information, or to schedule a tour, please call the society at (480) 513-4377 and select option 4 or email Debbie@phoenixherp.com to reserve a tour date.
Advertisement
The Philippine croc is named after the island of Mindoro but can be found on several of the country's 7,107 islands. It is critically endangered and has an estimated total population of around 500 animals. It has declined as a result of hunting and human activity. They have a broad snout and can be found in still or slow-moving bodies of water.