Wyoming toad and Kemp's ridley sea turtle named in top ten success stories of 2007.
The Association of Zoos and Aquariums (AZA) announced its top 10 wildlife conservation success stories for 2007. From amphibians to zebras, AZA-accredited zoos and aquariums are spearheading new efforts to protect wild animals – in some cases bringing them back from the brink of extinction.
"AZA-accredited zoos and aquariums are leaders in wildlife conservation and education," said AZA President and CEO Jim Maddy. "This Top 10 list is just a small sample of the important work of AZA-accredited zoos and aquariums."
Advertisement
In the last five years, AZA-accredited facilities funded 3,693 conservation projects in more than 100 countries. Annual spending on conservation averages nearly $70 million per year.
The number one success story of 2007 is the Wyoming toad, and the number five spot goes to the Kemp's ridley sea turtle.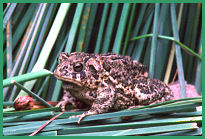 1. Terrific toadlets
Habitat loss, pollution and disease are hitting some of the smallest creatures on earth the hardest. Frog populations have been in sharp decline the past few decades, but a fortunate native species is getting a helping hand from scientists. Staff at the Detroit Zoo are raising 40 juvenile Wyoming toads, one of the most endangered amphibians in the United States. The species is now considered functionally extinct in the wild, with the last remaining individuals only found in zoos and aquariums across the country. The zoo breeding partnership, led by Central Park Zoo and Omaha's Henry Doorly Zoo, has successfully released more than 6,000 tadpoles, toadlets and toads in Wyoming since the program's inception in 1995. Recent good news indicates that the recovery efforts may be paying off: this summer in a monitored protected area, conservationists discovered the first clutch of Wyoming toad eggs found in the wild in ten years.
Read more about the Wyoming toad>>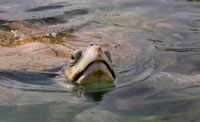 5. International sea turtle success
The Kemp's ridley sea turtle population is in bad shape, but thanks to cooperation between U.S and Mexican officials and scientists, the species can rest assured that their nesting sites will be safe. The Gladys Porter Zoo in Brownsville, Texas, and Mexican conservation workers have protected the turtle's nesting sites on beaches in Tamaulipas, Mexico and Padre Island National Seashore. The Zoo reports an increase in nests by the hundreds each year on the Mexican Gulf Coast, indicating success of the program.
For more information and to read the full list, please visit www.aza.org
Advertisement