The TSA plans to import turtles rescued from a trade confiscation in Hong Kong.
Click image to enlarge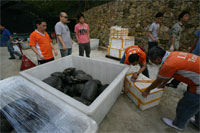 The turtles and tortoises confiscated in a February shipment in Hong Kong were packed inhumanely. Photo courtesy TSA.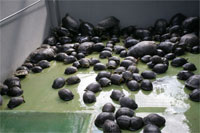 The largest animals in this photo, yellow-headed temple turtles, will be shipped to the United States by the TSA. Photo courtesy TSA.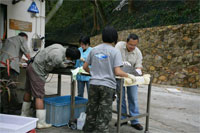 Yellow-headed temple turtles receive veterinary treatment after being rescued. Photo courtesy TSA.
The Turtle Survival Alliance is preparing to import 50 endangered adult yellow-headed temple turtles (Heosemys annandalii) from Hong Kong into the United States to expand the TSA's assurance colony for this species.
The turtles are part of a group of turtles and tortoises that were confiscated in Hong Kong in February. The smuggled turtles and tortoises are thought to have been intended for the food markets of mainland China.
The yellow-headed temple turtles weigh from about 13 to 16 pounds each, and the air freight charges for the group of 50 is estimated to be between $11,000 and $12,000. The TSA will be able to meet these costs thanks to donations it has received. The Columbus Zoo in Ohio has provided $7,000, BC Johnson Family Fund LP has donated $1,500 and several TSA members have also made donations.
The shipment confiscated in Hong Kong in February consisted of about 1,300 turtles and tortoises total. The Chinese government handed these turtles and tortoises over to Kadoorie Farm and Botanic Garden in Hong Kong. The staff at Kadoorie Farm has assisted in the care of these animals, but due to limited resources and space, Kadoorie Farm has reached out to other organizations around the world, such as the TSA, for assistance.
To learn more about the TSA, visit turtlesurvival.org.