Click image to enlarge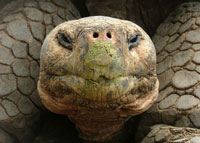 Lectures at Turtle Survival Alliance conferences have covered many chelonian subjects, including Galapagos tortoises.
If you have never heard of the Turtle Survival Alliance (TSA), here's a description from the Turtle Survival Alliance website:
"Defined as an IUCN Partnership Alliance for Sustainable Captive Management of Freshwater Turtles and Tortoises, the Turtle Survival Alliance seeks to preserve options for the recovery of wild populations. It is the only conservation organization in the world that is dedicated solely to preventing turtle extinctions.
"The Turtle Survival Alliance is a task force of the IUCN/SSC Tortoise and Freshwater Turtle Specialist Group (TFTSG) and is a global partnership of private individuals, zoos, aquariums, field biologists and researchers who have joined together to help conserve threatened and endangered species of tortoises and freshwater turtles."
I have long been an advocate of reptile conservation efforts and have been banging the drum for the Turtle Survival Alliance since it was formed in 2001. The Turtle Survival Alliance was created in response to the Asian turtle crisis, a crisis so named because of the dangers Asian turtles were facing in the form of hunting and environmental concerns that were reducing native turtle populations to an alarming degree. Early organizers recognized that captive-breeding of these endangered species would help to preserve them. I remember attending an early planning meeting in Daytona Beach to discuss the formation of the Turtle Survival Alliance with current co-chair Rick Hudson, of the Fort Worth Zoo and Lonnie McCaskill from Disney's Animal Kingdom in Orlando. The organization has come a long way since then, in a relatively short time, and REPTILES magazine has been a long-time supporter.
Ever since its inception the Turtle Survival Alliance has done much to help turtles and tortoises around the world. The group has organized and trained varied indigenous people in the care and management of turtles that they had previously been hunting nearly to extinction. It has rallied volunteers to help turtles in many ways, from housing turtles in need to providing veterinary care for animals that were at death's door. The Turtle Survival Alliance operates in conjunction with many rescue and captive-breeding groups to help both turtles and tortoises, and helps to arrange head-start programs for these animals. Captive breeding plays a huge role in the function of the Turtle Survival Alliance, and the organization of breeding groups of in-trouble turtles – called Assurance Colonies – has done much to provide hope for the continued survival of many species.
The Turtle Survival Alliance has an annual conference every year, with an assortment of interesting discussions being one of the highlights. There is also a BBQ, awards banquet and other activities. This year's Turtle Survival Alliance conference — the seventh — is hosted by the St. Louis Zoo and will be held August 5 through 8 in St. Louis, Mo. You don't have to be a member of the Turtle Survival Alliance to attend, though being one can save you some money.
As described by the Turtle Survival Alliance, the conference is the "largest gathering of non-marine chelonian biologists and captive breeding specialists in the world." You, too, could be a part of it, and it could be a dream event for anyone who is fascinated, as well as concerned about, the world's turtles and tortoises. For more details or to become a member of the Turtle Survival Alliance, visit the Turtle Survival Alliance website.
Advertisement