If you see me on your flight to the Daytona Beach reptile expo next year, consider changing planes.
Click image to enlarge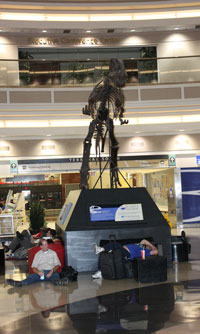 Here I am, freshly stranded in the Hartsfield-Jackson Atlanta International Airport. That's me on the floor to the left, though I felt like the guy on the right. I suspect the dinosaur skeleton is symbolic of the fact that Delta passengers may be subject to fossilization prior to arriving at their destinations.
I'm beginning to think I'm cursed when it comes to flying, and Delta has done its fair share of the cursing. I don't mean to lash out at any innocent airline workers, but what's the deal with Delta? I fly a fair amount, and I'm pretty sure Delta has resulted in more delays for me than the other airlines (though it wasn't Delta's fault that I got trapped in Montreal for an extra night last December when I was trying to get home after a business meeting with the good folks at Rolf C. Hagen – at one point I was literally left standing in the cold and snow after my outbound flight was canceled).
Last year, on my way to the National Reptile Breeders' Expo, I was driving to John Wayne Airport when I got a cell call from Stephanie Starr, my managing editor on REPTILES magazine. Steph had arrived at the airport a few minutes ahead of me and called to warn me that our flight was canceled, and that she was in the process of being shuttled to Ontario Airport to attempt to catch a different flight out. About 10 minutes later I was in the same boat, following Steph's route in a different shuttle, rushing 40 miles away to catch the same flight Steph was attempting to get on.
My shuttle driver made a valiant effort, but I missed the plane and ended up spending the night with friends in nearby Norco. Steph, meanwhile, made it by the skin of her teeth, and they put her in first class to boot! Ironically, that was her first Daytona show, and both Sandy Quinn, REPTILES' sales manager and my usual Daytona compatriot, and I experienced flight mishaps and ended up having to fly out a day later than scheduled. The REPTILES staffer who had never been to Daytona turned out to be the only one to arrive there that night, amid storm warnings on top of everything else. I kept my fingers crossed that Steph would survive the experience intact, thrust in alone among the throngs of reptile people who would surely be roaming the hotel lobby and adjacent bar. Suffice it to say, she survived just fine.
The icing on the cake was that upon our return home from last year's Daytona reptile expo, Sandy and I both discovered that our homes had been burglarized. That was a weird coincidence. As far as losses, I luckily got off lightly. Maybe they were interrupted, but the chuckleheads who broke into my house took only a cheap DVD player. They made a big mess, turning drawers upside down and emptying stuff all over the floors, and they broke a window and an air conditioner in order to get into the house. They didn't even take the remote to the player. Idiots. Now I have a burglar alarm, which of course I set off by mistake soon after having it installed. That was very alarming, no pun intended.
This year, Delta struck again. ReptileChannel web editor Ben Weiner and I arrived at John Wayne in plenty of time for the first leg of our flight, and I was feeling confident, but Delta had other ideas in regard to how our day would go. The flight before ours remained at the gate for too long, resulting in our flight leaving about 15 minutes behind schedule. This was sufficient for us to miss our connecting flight in Atlanta, which we found out only after disembarking and literally running from one end of the terminal to the other.
Is there an airport rule that dictates connecting flights be as far as possible from the gate at which the initial flight arrives? On top of this distance factor, I felt moderately groggy since I often will pop a couple of sedatives when I fly. I'm not a complete white-knuckled flyer, but I do like something to take the edge off, and, preferably, render me unconscious for the majority of the flight. The downside to this is that lately I find myself sleeping with my head thrown back and mouth agape, probably not the most flattering of appearances when flying.
Ben and I raced through the terminal to our connecting flight's gate, and the plane was still there, visible through the windows. But the door to the gangway was closed – a bad sign. There was a girl knocking on the door, and I joined her in banging on it. It looked to me like the plane was still attached to the gangway and I thought someone might graciously swing the door open and allow us to board.
Advertisement
Instead, a Delta representative at the adjoining gate told us to stop banging on the door. The plane, meanwhile, moved out and off it went on its way to Daytona (presumably; based on past experiences with Delta I wouldn't necessarily bet on it). Ben, the girl and I trudged to the Delta customer service desk, where we joined fellow dejected travelers to learn our fate. The girl got on another plane and was happy. Ben and I ended up having to spend the night at a Doubletree Hotel in Atlanta before continuing on to Daytona the next afternoon. I will admit the hotel was nice. And the airline gave us some meal vouchers and overnight kits containing razors and other stuff. We also got an extra-large Delta SkyMiles t-shirt. I wonder whether I might receive special consideration if I wear that shirt on future Delta flights. Maybe it will identify me as a member of the special Delta Flight Delay Veterans Club, and will serve as a sort of secret handshake.
And that's how the first day of my journey to the 2009 National Reptile Breeders' Expo went. Read my next blog on August 28 to find out what happened next.