The rescued turtles include a loggerhead/green sea turtle hybrid.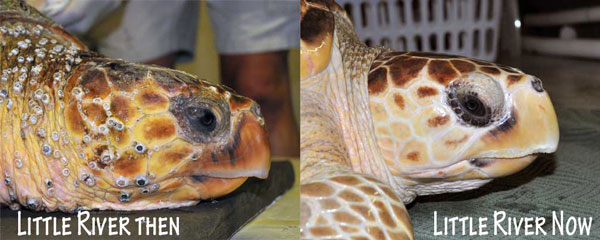 South Carolina Aquarium's Sea Turtle Hospital
Advertisement
A before and after shot of Little River, a Kemp's Ridley turtle.
Six sea turtles that were rescued in January and suffering from various injuries will be released April 29 off of South Carolina's Isle of Palms County Park on the Isle of Palms. The turtles are a loggerhead (Caretta caretta), four Kemp's Ridley's (Lepidochelys kempii) and a hybrid loggerhead/green sea turtle. The loggerhead turtle has been receiving treatment at South Carolina Aquarium's Sea Turtle Hospital for injuries that included boat propeller strikes to the shell and a partial front flipper amputation that the veterinarians suspect resulted from a predator encounter. The four Kemp's Ridley's and the hybrid turtle slated for release were found cold-stunned off the Cape Cod coast. Cold stunning happens when air temperatures and water temperatures drop rapidly. This leaves the turtles in a state of hypothermia, rendering them unable to swim. The cold-stunned turtles were placed on a vitamin and antibiotic regimen and after several months, were deemed healthy enough to be returned to the ocean. The hybrid sea turtle, named Eclipse, is the first hybrid sea turtle to be treated at the hospital. Eclipse was confirmed a hybrid via DNA testing.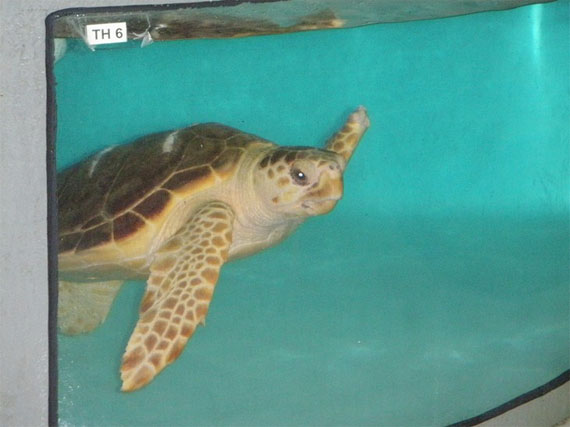 This loggerhead had three propeller gashes on its shell..
The South Carolina Department of Natural Resources says that over the last decade, the average number of sea turtle strandings on South Carolina beaches is about 130 per year. About 10 percent are alive and successfully transported to the Sea Turtle Hospital, of which 83 sea turtles have been cared for and released. The average cost to treat each turtle is $36 a day with an average length of stay about nine months. To make a donation or schedule a behind the scenes tour, visit http://www.scaquarium.org.
Advertisement