The fibro-papilloma virus has been found on turtles of the Great Barrier Reef
A herpes-like virus has sickened sea turtles on Australia's Great Barrier Reef and marine researchers are still at a loss as to why the turtles have become infected with the virus, known as fibro-papilloma. In an effort to determine why the virus has attacked the sea turtles, of which six species call the Great Barrier Reef home, researchers have started tagging healthy turtles off the north Queensland coast, according to a report by the Australian Broadcasting Corp. The tags will monitor the migration of the turtles and the researchers hope that this will help them to determine where the disease is coming from.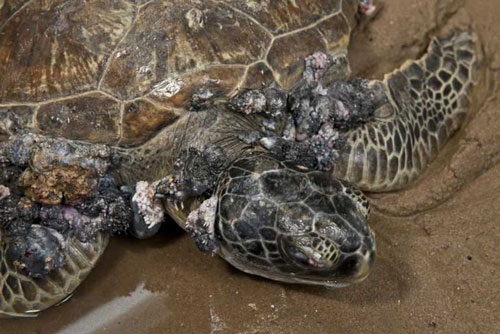 World Wildlife Fund Australia
Fibro-papilloma has attacked sea turtles of the Great Barrier Reef.
In related news, World Wildlife Fund Australia has partnered with James Cook University to help the Great Barrier Reef marine turtles, which have endured a variety of maladies, both natural and man made.
"Sadly extreme weather events earlier this year in Queensland have taken a serious toll on green turtles with the loss of food sources in many areas adding to existing threats from net entanglement and disease," WWF-Australia CEO Dermot O'Gorman said in a prepared statement.
"This has inspired us to seek new ways of working with leading science and turtle health agencies like James Cook University so we can ensure the Great Barrier Reef remains one of the world's best sanctuaries for green turtles."
Advertisement
The partnership will enable both entities to care for sick and injured turtles in the region, perform research on turtle health and disease, and to push for the establishment of areas of protection for the turtles. The partnership has a heavy workload ahead, as approximately 1000 turtles were found stranded on the coast, most dead, between January and September of this year. Last year, there were 538 strandings/deaths during the same period. Those that were found alive were so sick that emergency care was required.