Worldwide event to raise awareness of amphibian extinctions.
Click image to enlarge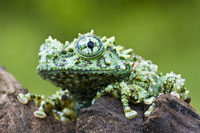 Vietnamese mossy frog. Photo credit: Thinkstock
The 4th Annual Save The Frogs Day will take place April 28 with about 150 events occurring in 25 countries, including Australia, Bangladesh, Brazil, Canada, Ghana, and the United States. Save the Frogs events are scheduled world wide to bring attention to the plight of frogs and amphibians in many countries. Frogs, which are considered a keystone species that determines the health of an ecosystem, are disappearing at an alarming rate due to such factors as habitat destruction, invasive species, climate change, and the chytrid fungus that has wiped out many populations of frogs and amphibians worldwide.
Among the events in the United States are the Save the Frogs Day 5K race in downtown Seattle, a frog legs protest at the Coney Island New York location of Nathan's Famous, a chain restaurant that sells frog legs, and a gathering at Sharp Park in San Francisco to raise awareness about the California red-legged frog's plight at the park and golf course where taxpayer dollars are used to pump dry a wetland the frog uses to breed.
Advertisement
Scientific conferences will take place April 28 in Ghana, Bangladesh, and Mexico, focusing on frog conservation. Frog photo exhibitions will occur in Colombia, Malaysia, and Australia; and Brazil and India will showcase frog art exhibits. The day has been officially recognized by Gov. Bev Perdue of North Carolina; Gov. Nikki Haley of South Carolina; Mayor Bob Buckhorn of Tampa, FL; and Mayor Tom Lowry of Three Rivers, MI.
According to SAVE THE FROGS, a California-based non-profit group that works to protect frogs and amphibians, more than 200 species of frogs have disappeared completely over the last several years, and one third of the remaining frog species are threatened with extinction. For more information about Save the Frogs Day, or to locate an event in your area, please visit www.savethefrogs.com/day.