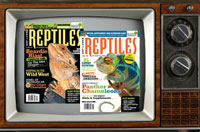 BowTie magazines, including REPTILES, have popped up on TV and in movies.
Our marketing department told me recently that representatives of the TV show 30 Rock have requested permission to use REPTILES magazine as set dressing in upcoming episodes. Cool! I'm always willing to have the magazine appear on television and in movies. That's free advertising, and as long as the magazine isn't being used to represent reptile owners as weirdos, I'm usually all for the magazine being used.
"Set dressing" means the magazine may be visible on a coffee table during a scene, or something similar. If it appears on camera at all, producers need our permission for it to do so.
Advertisement
BowTie magazines, including REPTILES, have popped up before on TV and in movies. The most blatant example of all time involved one of our dog magazines, Dog Fancy, when it was used in the Jim Carrey movie, The Truman Show. A couple of times during the movie a person would walk up to a magazine kiosk, of which the only magazine visible – dozens and dozens of copies of it – was Dog Fancy. And the customer would say each time, "Dog Fancy, please." That was a big unexpected surprise the first time I saw the movie.
REPTILES has never been featured that prominently (yeah, I'm jealous). It's been used a few times in movies, but the only one I can think of off the top of my head was in a 1998 movie called Small Soldiers. This was a movie about toy soldiers that come to life to battle a group of toy monsters that also come to life. One of the primary characters is, not surprisingly, a young boy, and there is a scene that takes place in his bedroom. The camera pans across his desk, and there among the usual clutter you might find on a kid's desk is a copy of REPTILES.
We also made MTV news once, after we published our Slash interview in the February 1994 issue. I still remember what Kurt Loder said in announcing this fact: "And in other slithery Slash news, REPTILES magazine – yes, there is such a thing – featured an interview with the Guns 'n Roses…"
"Yes, there is such a thing"…humph. But again, it was a free plug on a popular television show, and lots of people who may not have known about the magazine learned about it that day.
More recently, there was a Fox show – it's cancelled as of now, I believe – called Talk Show With Spike Feresten. Feresten is primarily a writer, known for working with Jerry Seinfeld. He wrote the "Soup Nazi" episode of Seinfeld, as well as others, and was a co-writer for Seinfeld's Bee Movie. One of Spike's staffers called me to see if I'd be willing to put Spike on the cover of REPTILES. I actually was a fan of the show, and was interested in the notion, as long as it made sense to do so.
Advertisement
"Does he keep reptiles?" I asked. No, I was told.
"Does he know anything about them? Is he connected to them in any way?" No, not that I know of, I was told.
They wanted him on the cover as a joke, with the joke being that Spike had set out to get on a magazine cover, and the only one that would have him was REPTILES. I told them that maybe we could print up a fake cover to help them with their joke, but I wasn't going to put Spike on the actual cover of REPTILES just so they could stage their joke on the show. To those of you who are subscribers: What would you have thought to receive a copy of the magazine with this guy, who you probably had never heard of, on the cover with no reason for him being there? No way was I going to do that. Believe it or not, having a reptile on the cover of REPTILES magazine helps to sell copies of REPTILES magazine.
So I said no. But Spike did get to do his joke on the show, and he did hold up a copy of REPTILES as one of the magazines that he had approached to get on the cover but which had turned him down. The magazine that did agree to put him on the cover was one that was devoted to trailer living, if I remember correctly.
Advertisement
I don't watch 30 Rock, but I've been told that a character on the show, played by Tracy Morgan, is a snake enthusiast. Maybe future scenes that take place at his home will feature copies of REPTILES in the background. I haven't watched the show up until this point, but now I guess I better start recording it so I can keep an eye out.
Hmmm….maybe getting the reptile crowd to watch their show has been the plot of the 30 Rock people all along.