Click image to enlarge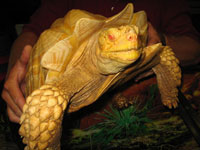 Albino sulcata tortoise.

Bearded dragons.
While reptile expos are held pretty much year-round, the next several months see a glut of them. It's a reptile hobbyist's dreamland! There's the country's largest expo, the National Reptile Breeders Expo, in Daytona Beach, Fla., that's held every August (area hotels for this one fill up fast, so if you're going, consider booking sooner rather than later). This is the biggie, and you can thank Wayne Hill for putting it together every year. You can always count on seeing many of the nation's top breeders with a huge assortment of reptiles and amphibians for sale. A turtle and tortoise symposium and an "Advances in Herpetoculture" seminar are usually held during the show. This year's show will be held August 22-23.
The North American Reptile Breeders Conference and Trade Show (NARBC) events are super popular, too, and there are two to choose from over the remaining months of 2009: Anaheim, Calif. (September 5-6) and Tinley Park, Ill. (Oct. 10-11). Bob Ashley and Brian Potter are the brains behind these shows, and both are well-known figures in the reptile world. Brian owns Chicago Reptile House and Bob owns Eco Wear and Publishing. As if he's not busy enough with his business and the NARBC shows, he's also the president of the International Herpetological Symposium (the annual meeting this year is in Monterrey, Mexico). These shows often feature guests, such as television personality and naturalist Nigel Marven.
The F.I.R.E. show (Florida International Reptile Expo), held on July 11 and 12 this year, offers plenty of traditional animals and vendors (and also sometimes Nigel Marven), as well as venomous reptiles. Shawn Heflick (who provides ReptileChannel's popular Mystery Skull Challenge every month) always arranges a number of activities. This year he's got several contests going, categories including Best Booth, Best Snake Morph, Best Lizard Morph, Best Amphibian and Best of Show. At past shows there have been fire eaters and other entertainers. You never know who will pop up at one of the F.I.R.E. shows.
Another great California show is the San Diego Reptile Super Show that's being held on June 27 and 28 this year. Last year various REPTILES editors descended on this show, organized by Ramy Guirgius, and we had a good time squeezing through the crowds to check out the reptiles and vendors' latest offerings. There were a number of lectures last year, including topics such as New Caledonian giant geckos, newts and salamanders and a demonstration in setting up a naturalistic vivarium. This year a Gecko Day is planned. You can see a video ReptileChannel associate editor Ben Weiner shot here.
Speaking of REPTILES staff, while you may chance upon me or some of the other editors at a reptile expo, a fixture at many of the shows is the ubiquitous Sandy Quinn. Sandy has been my sales manager on the magazine for many years and she hits way more shows than I am able to. If you see her coming, best move out of the way or you may get trampled as she tries to visit with as many of her friends and clients at the shows as possible. Whenever I travel with Sandy I generally feel like I'm caught in her wake as we make our way up and down the expo aisles.
There are many shows to choose from. Other upcoming events include the Herp World Expo (Daly City, Calif., May 16-17; San Jose, Calif., August 8-9), the Northwestern Berks Reptile Show (Hamburg, Pa., June 13), the Wisconsin Reptile Expo (Monona, Wis., May 2), the monthly All Maryland Reptile Shows (with the next couple being April 11 and May 2 in Havre de Grace, Md.), the Northern Virginia Reptile Expo (Manassas, Va., May 9 and August 29, as well as other dates through 2009) and more. For a comprehensive listing of upcoming reptile expos, click here.
If you've never been to a reptile expo I encourage you to attend at least one. In addition to the many cool reptiles and amphibians you'll see for sale, it's a good place to meet like-minded individuals who share your passion for herps. Of course, a huge reason to attend is because you will get to meet breeders who are great resources for information. If you buy an animal from a breeder that person should be able to give you great advice about how best to care for it. Of course, I always recommend you do your care homework before you buy an animal, but having the breeders right there to answer questions is a huge bonus to buying reptiles at an expo.
Advertisement
The size of expos may vary, but all will generally offer a cross-section of herps for sale and various products to help care for them. You may also find book vendors who sell not just currently available titles but also rare, out-of-print reptile books. Framed prints can often be found, and, of course, you just might happen across the REPTILES magazine subscription table (and if you don't, don't worry — you can always subscribe right here). Of course, other popular vendors at reptile expos are the food vendors, both live foods and manufactured foods. At their tables you may see some dishes set out with samples of processed foods, or large plastic bins crawling with mealworms, superworms or crickets. These guys have been known to come up with some interesting marketing ideas. I still have my "I Ate a Bug Club" button from Fluker's. I got it when I ate a chocolate-covered cricket at one of their booths years ago. From what I remember, it tasted like chocolate with a little clump of dirt in it.
Very early on in my REPTILES career I had an embarrassing moment at one insect supplier's booth – this may have been Fluker's, too, now that I think of it. I was at the Western World Pet Supply Association (WWPSA) trade show in Long Beach, Calif. Wandering the aisles, I came upon a display that consisted of many cardboard cylinders vertically stacked on top of each other, forming a sort of tall pyramid. The cylinders contained crickets. You can probably guess what happened. I removed one of the cylinders to inspect it close up, and a whole bunch of them came toppling down. "Sorry!" I mumbled as I scurried away, red-faced. Since then I try to be very careful around vendors' displays.
The only time I ever got bitten by an animal at any show was at another pet industry trade show in the Chicago area. A metal tub caught my eye and upon approach I discovered it contained some ferrets. Ferrets are illegal in California, and up to this point I had never seen a real, live ferret. They seemed interested in me, and they were cute, so I reached down into the tub. Two ferrets – they were young ones – quickly latched on to the webbing between my thumb and forefinger. They were holding on tight, to the point that when I lifted my hand out of the tub they were dangling from it. I don't remember it as hurting much; I remember looking at the "fuzzies" more in curiosity than in pain as they dangled from my hand. I wrote an editorial about this incident when I was the editor of Ferrets magazine, and got jumped on by a number of ferret fans who were irritated that of all the things I could have written about their favorite animal, I wrote about getting bitten. Oh well.
Some people go to a herp expo with an idea of the reptiles they want to buy. These are the ones who are most likely to have done their research ahead of time. Others enter a show floor wide open to possibilities. Hopefully they quiz vendors thoroughly about the proper care for any animals they decide they want to purchase. Lots of vendors provide care sheets, so always ask. One thing about reptile expos is that the temptation to buy on impulse is very much present. Just be careful and be sure that you can care for a reptile before buying it. I say that a lot, you may have noticed. It will likely be a recurring theme of many future blogs.
Advertisement
Check out some reptile expos this year if you haven't already. There are some great ones out there that are well worth your while – and your money.