The Scottish SPCA is currently caring for the snake.
Someone left a large python on a doorstep of a local reptile keeper in Scotland and the Scottish SPCA is looking for any information regarding this abandonment. The snake, described as a carpet python, was left in a box in North Lanarkshire town at the beginning of this week. The Scottish SPCA has named the snake Kaa and is hoping that someone will recognize the snake or if someone knows of anyone who owned a carpet python in the area.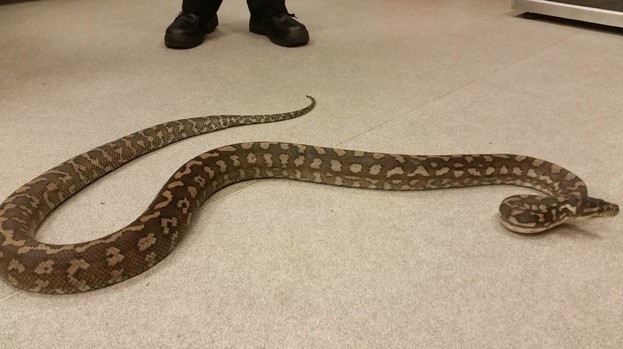 Scottish SPCA
This beautiful python was abandoned in front of a home in North Lanarkshire, Scotland.

"We'll continue to care for Kaa until we can find him a suitable new home. Abandoning an animal is an offense under the Animal Health and Welfare (Scotland) Act 2006," Scottish SPCA Senior Inspector Bill Little told STV News Scotland.
"Kaa is in good condition so he seems to have been well cared for until now, however, we are keen to trace the person responsible for leaving him there as abandoning an animal is an offense."
Advertisement
If you live in North Lanarkshire, Scotland or a surrounding town and have experience with snakes, the Scottish SPCA might just put this one up for adoption. Anyone with information regarding the snake can call the SPCA's Animal Helpline at 03000 999999.