Administration cites data showing TEDs not preventing smaller turtles from being caught in nets of certain shrimp trawlers.
The National Oceanic and Atmospheric Administration last week shelved plans to mandate turtle excluder devices (TEDs) on certain shrimp trawlers in the Gulf of Mexico. The administration cited data it collected over the summer showing the devices may not prevent smaller sea turtles from escaping via the door of the device. The proposed rule would have required skimmer trawlers, pusher head trawlers, and wing-net trawlers to install and maintain TEDs.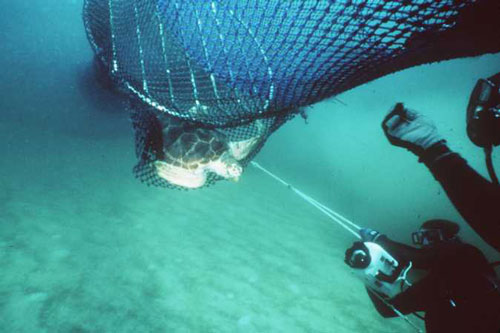 Advertisement
NOAA
Loggerhead turtle escaping from TED device during testing.
According to a statement released by NOAA, TEDs are effective on otter trawl nets that operate in offshore waters but may need to be modified to effectively work for inshore trawl fisheries. During their data collection, fishery observers noted that sea turtles that are caught in skimmer trawls are so small they don't necessarily escape via the TED and oftentimes get caught inside the end of the net where they can potentially drown.
"We're not abandoning this issue, there's just more work that needs to be done to get it right," Dr. Roy Crabtree, southeast regional administrator for NOAA Fisheries said in the statement. "This is the first time we've required observers on skimmer trawls and the information we now have suggests the conservation benefit does not justify the burden this rule would place on the industry. We need more research looking at different options."
Turtle excluder devices have been used successfully for more than 20 years. A 2011 study published in the journal Biological Conservation estimated that prior to the introduction of TEDs, more than 300,000 sea turtles were caught in commercial fishing gear in the United States every year, with 70,000 of the sea turtles killed. Since the inclusion of TEDs on commercial fishing vessels, the number of sea turtles killed each year has dropped. From 1990 to 2007, the study claims that approximately 4,600 sea turtles died as a result of accidental capture.
Advertisement