Amphibian looks like an earthworm and its young feeds on the mother's skin.
A new species of skin feeding Caecilian has been discovered in French Guiana by researchers with the Natural History Museum in London, Harvard University, and the Saint Laurent du Maroni Cedex in French Guiana. According to their published paper in the PLoS One Journal, the caecilian, Microcaecilia dermatophaga sp. nov is the first fully described caecilian from French Guiana in more than 150 years. It is different from the nine previously described species in that has fewer secondary annular grooves and lacks a transverse groove on the dorsum of its first collar, according to the paper. It is the third such species described whose young feed on the skin of the mother in a practice known as maternal dermatophagy, hence the scientific name of the amphibian.
In 2008, herpetologists Mark Wilkinson, Emma Sherratt, Fausto Starace, and David J. Gower discovered the siphonopid caecilian in forest soils between the roots of trees as well as under rotting wood. They were able to maintain a small collection of the caecilians in captivity until July 2012. They were also able to successfully breed them and observe how the offspring fed off the skin of the mother.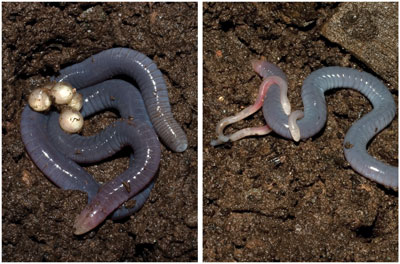 Presumed mother with a connected string of five eggs (left) and with two hatchlings during the period of extended post-hatching parental care and maternal dermatophagy (right). Photo by Mark Wilkinson.
---
Want to Learn More?
New Caecilian Species Discovered in Brazil
Scientists in India Discover Earthworm-like Amphibian
AmphibiaWeb Documents 7,000th Amphibian Species
---
"What we've found is another species that's a skin-feeder, but most importantly, it's another species that's quite distantly related to other skin-feeders we've found, meaning that skin-feeding is probably an ancestral characteristic for caecilians," co-author Emma Sherratt from Harvard University told the Natural Environment Research Council.
Microcaecilia dermatophaga resembles an earthworm in appearance and lives in the same area of the soil as earthworms. They grow to about six inches in length, and feed on earthworms, crickets, termites, and other small soil dwelling organisms. The researchers also successfully bred the animal in captivity, feeding them earthworms and crickets.
The full paper can be accessed here.