Proposed rule change would require use of TEDs in Louisiana, Mississippi, Alabama and North Carolina.
Shrimp boats that use skimmer trawls to catch shrimp in the states of Louisiana, Mississippi, Alabama and North Carolina do not use turtle excluder devices, or TEDs. The National Marine Fisheries Service will hold public hearings June 4 in Larose, LA and June 5 in Belle Chase, LA to close a loophole in shrimp fishery laws that would require the use of TEDs in those states that, when installed, allow turtles to escape the nets.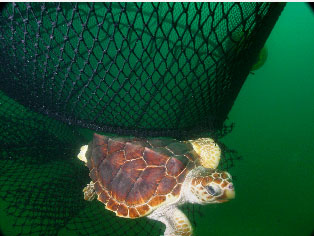 NOAA
A sea turtle escapes via a turtle ecluder device in a trawling net.
It has been estimated that more than 28,000 sea turtles end up in skimmer trawl shrimp nets in the United States. Of those captured are an estimated 1,000 endangered Kemp's ridley (Lepidochelys kempii) turtles that drown each year, according to the National Marine Fisheries Service.
The practice now in those states consists of a "tow-time" restriction in which the shrimp boats must pull their nets to the surface at specified time intervals. This restriction however is difficult to enforce, and sea turtles still drown. The proposed change in the law would abandon the tow-time practice and require skimmer trawls, pusher-head trawls, and wing nets to be outfitted with TEDs.
"Closing the deadly loophole in shrimping laws will prevent thousands of sea turtles from needless injury and drowning in shrimp nets," said Teri Shore of SeaTurtles.org. "It's a simple and effective way of protecting sea turtles from the skimmer trawl fleet. Most shrimpers have been using TEDs for decades."
The public hearings will take place June 4 from 6-8 p.m., Larose Regional Park and Civic Center, 307 East 5th Street, Larose, LA. and June 5 from 4-6 p.m., Belle Chasse Community Center, 8398 Highway 23, Belle Chasse, LA.
Advertisement