Reptiles in classrooms figure heavily at this year's Tinley Park show.
Click image to enlarge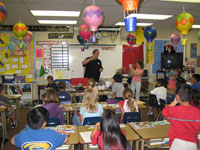 Giving reptile talks to schoolchildren is fun!
I was checking out the speaker lineup for the North American Reptile Breeders Conference in Tinley Park, Ill., which is being held on October 10 and 11, and there are two talks that address reptiles and classrooms. One is called "Reptiles in the Classroom" (presented by Tina Carpenter) and the other is "Developing a Reptile Class for Young Students" (presented by Scot Granke).
I applaud Brian Potter and Bob Ashley for including these two talks in the NARBC schedule, as nurturing an interest in reptiles in young people is a crucial element in keeping the hobby alive for future generations (as well as current generations, of course…I ain't dead yet!).
I've written about the special feeling one can get when showing reptiles to the general public, defined by me in this case as people who may not normally get much exposure to reptiles, as opposed to those who would frequent reptile shows and expos, etc. And showing them off to kids is often the be-all, end-all. To watch their eyes widen and hands tentatively (or sometimes not so tentatively) reach out to gently stroke a snake's tail or lizard's back – I always love that.
In REPTILES' June 2008 issue we named the winner of our "Creature Teacher" contest. Elaine Marshall was (and one may imagine still is) a kindergarten and first-grade teacher in Westhampton Beach, N.Y. Elaine impressed us with her dedication to incorporating reptiles into her lesson plans. A reptile-keeper herself, Elaine is our idea of the best kind of teacher: one that loves reptiles and who attempts to pass that fascination on to her students. As her prize for winning the contest she received a 20-gallon tank from Glasscages.com, lighting and décor from Zoo Med, an incubator from Kemp's Incubators, a membership and gift certificate from the International Reptile Conservation Foundation, a REPTILES subscription for every one of her students, and a pair of sunglow leopard geckos from The Urban Gecko.
Hopefully those geckos are still alive and well in Elaine's classroom.
Children who may otherwise resist a lesson could find themselves drawn in if a reptile is brought in to illustrate something. They can learn responsibility if a pet herp takes up residence in a classroom. Lessons about the environment, endangered species…pretty much anything that may have to do with the natural world can be learned using reptiles and amphibians as subjects. They certainly can be easy to maintain in a classroom, and students can help take care of them (although, of course, it is up to the teacher to ensure a classroom reptile is receiving the proper care).
I remember a talk I once gave to a classroom full of youngsters. I forget which grade it was…probably something like third or fourth. Thanks to animals I borrowed from nearby California Zoological Supply I was able to keep the kids riveted the entire time I was there. They were most interested in snakes, especially when we went outside so they could see how a snake slithered. I placed a largish snake – I can't remember the species now, but perhaps a kingsnake – onto the grass lawn and they all oohed and aahed as it slithered its way along. I have no idea where that snake is now, but I'm sure….I'M KIDDING, it was never out of my sight and it was returned in fine fettle back to Cal Zoo.
Many of the kids asked about snakebites. They seem endlessly fascinated with this phenomenon, always asking which snake has the biggest fangs, etc. As it turned out, when I was at Cal Zoo the previous day deciding which animals I wanted to bring, I did consider a beautiful yellow rat snake they had. Some of you may already be thinking Uh oh. I removed the snake from its enclosure, and almost immediately it began biting me. By the time I got it back in I had a few bites on each arm. Of course it was a rat snake, so they didn't hurt at all.
So when the kids asked me about fangs and bites the next day, I showed them the snakebite marks on my arms. I took this as an opportunity to teach them that all snakes should be treated with respect, and that some make better "handling pets" than others. The bite marks got a big reaction, and the kids seemed to look at me in a new light. No, not as a bonehead who should have expected a yellow rat snake to be cantankerous. More like a survivor. Thank god young kids like that are often easily impressed.
If you have the opportunity to impress children with reptiles, take it! You don't even have to get bit to do so.