NARBC raises a lot of money for PIJAC/USARK
NARBC announced that it raised a lot of money for PIJAC/USARK, including $28,345 at its March show in Tinley Park and $41,474 at the fall show for a total of $69,819, with some of the money raised going to the Rico Walder Relief fund. It also announced that $27,237 was raised at the Spring and Fall 2013 A rlington shows and $14,110 at the 2013 Anaheim show. In total, NARBC raised $111,166 for PIJAC/USARK in 2013.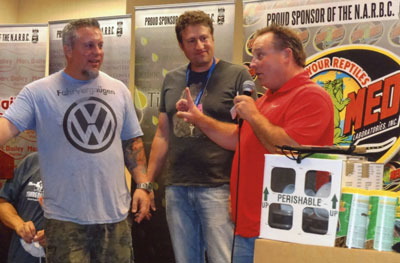 Photo by Donald Hamper.
Brian Potter, Bob Ashley, and Todd Goodman (NARBC Person of the Year).
"This year at the fall Tinley Park show we had a record attendance and record size show with a new expanded floor plan," said Bob Ashle y, organizer for the NARBC. "No other reptile show or event in the world has even raised even half of what NARBC did in 2013."
Ashley said that NARBC has been helping to raise money at its Saturday show auctions since the inception of the show in 2001. Ashley announced the person of the year award went to Todd Goodman of Timberline Fish eries. Goodman, Ashley said, has been instrumental to help raise awareness and funds for USARK, PIJAC and other organizations that have been needed by the reptile industry. Goodma n received his $1,000 award at the Fall Tinley Park show, which he proceeded to donate back to USARK.
Advertisement
NARBC counts sponsors ZooMed, Timberline Fisheri es, Gourmet Rodent, REPTILES magazine, Kingsnake.com, Constrictors Unlimited, Reptiles by Mack, and Marc Bailey Reptiles as crucial in helping to fu rther the reptile industry, Ashley said.