The 20-foot 2,370 pound Crocodylus porosus died in its enclosure in the southern Philippines.
Lolong, the world's largest saltwater crocodile (Crocodylus porosus) that was captured September 11, 2011 in the small town of Bunawan in the southern Philippines has died. The cause of his death has not yet been determined, though attendants at the Davao Crocodile Park where he was housed had noticed prior to his death that the right side of his stomach was bloated.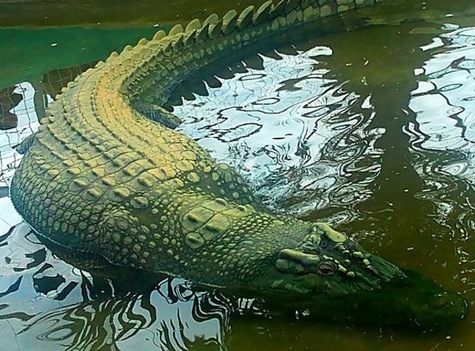 Marty Williams/Wikipedia
Lolong, a saltwater crocodile captured in the Philippines in 2011 was the largest such croc in captivity. It died Feb. 10 at the Davao Crocodile Park.
Philippine Environment Secretary Ramon Paje told ABS-CBN that the cause of Lolong's death will be determined by experts with the Protected Areas and Wildlife Bureau (PAWB) and the Philippine National Museum. Paje also said that the PAWB will also coordinate with representatives of the National Geographic Channel on the necropsy. Crocodile specialist Dr. Adam Britton of the National Geographic Channel was the person who first officially measured Lolong.
Lolong was recently named to the Guiness Book of World Records as the largest saltwater crocodile in captivity, measuring more than 20-feet long and weighing 2,370 pounds. He was named Lolong after local hunter Ernesto "Lolong" Conate, who died while devising a plan to capture the giant croc. Lolong was suspected in an attack that killed a 12 year-old girl and a fisherman in 2009, which led to the hunt that captured him. Because there was no conclusive proof that Lolong was indeed the animal that killed the two people, the town built a crocodile park especially for Lolong, who was considered an ambassador that helped park officials spread the importance of the animal's ecosystem.
The marsh in which Lolong was captured has been reduced from 111,000 hectares of protected land in 1991 to less than 20,000 hectares due to a conversion policy that was passed in 1996. In addition to the reduction of protected land for animals such as the saltwater crocodile to inhabit, other threats are affecting the Agusan Marsh, including the construction of dwellings along the river banks and inside the marsh area, destruction of the river banks, and logging and mining in the upland areas near the marsh.
Advertisement
Read more about Lolong here.
Want to learn more about the saltwater crocodile? How big do they get? And what they eat? Read a species profile on saltwater crocodiles here.