Check out these fun family reptile destinations!
Snake World of Berryville, Arkansas
Dale Ertel has been handling all kinds of venomous and nonvenomous snakes for more than 36 years, and he founded Snake World, in Berryville, Arkansas, to educate the public about snakes.
"I feel like I've done a lot of good. I live in a high venomous snake area, and people catch them [rather than destroy them like they used to] and leave them for me. I relocate them," said Ertel.
Advertisement
Snake World houses more than 70 snakes. People can get their picture taken with a 9-foot carpet python, and they can touch California kingsnakes.
Ertel takes visitors on what he describes as a one-on-one tour of Snake World. "It's a whole guided tour, and people can stop and ask questions."
The whimsical Frog Fantasies museum in Eureka Springs, Arkansas, houses a third-generation family collection of porcelain, crystal, jade and even carved coconut frog figurines, as well as frog ashtrays, frog salt and pepper shakers and other assorted frog chatchkas. What began in 1937 as a 5-year-old girl's fascination with a gumball-machine frog charm has grown into a collection of more than 7,000 objects. If after a visit you think you'd like to start your own frog collection, the gift shop will be happy to assist.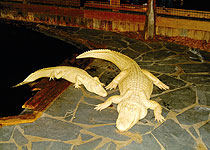 True albino alligators are a rarity. South Carolina's Alligator Adventure happens to have two: Casper and Wendy.
Advertisement
During much of the 19th and the early part of the 20th centuries, the well-heeled visited Hot Springs, Arkansas, to soak in the community's many geothermally heated bathhouses. The Arkansas Alligator Farm was founded in 1902 in order to offer tourists more than just a good soaking.
Eight of the historic bathhouses are now protected within Hot Springs National Park, and visitors can still visit the much-improved Arkansas Alligator Farm. Alligator feeding shows are performed from May through most of October, and visitors may even want to pet Dundee, a tame gator. The company brochure states: "In all probability your great grandparents visited the farm. It is truly one of the oldest show places in Hot Springs."
If you like gators and you like 'em big, then the Bayou Pierre Alligator Park, in Natchitoches, Louisiana, is a must-see. It has a privately owned breeding colony of American crocodiles and snakes from around the world.
Advertisement
"We have Cajun music and Cajun food and people can hold live alligators," says Terry Rogers, co-owner with his wife Deborah. One of the most popular shows is Big Al and Tiny's Feeding Show, where handlers take turns feeding huge 14- to 15-footers.
The newest show, scheduled to debut April 15, 2005, is called Castaway Island. It features a two-seater airplane that appears to have crash landed on a small island in the middle of a lagoon filled with 150 alligators. The loud speakers crackle with the pilot's radio calls for help. A Cajun houseboat comes cruising, chicken parts are dangled over the water and the hungry gators jump out of the water to get their food.
The gators for the new show were acquired from an alligator farmer who wanted to sell his business. "He sold me the gators and said come and get them," said Rogers. "We had to starve them so they'd come to us. It took a week to round them all up."
The residents of the little town of Rayne, Louisiana, are crazy – for frogs that is. The town is even billed as "The Frog Capital of the World," all because of a trio of brothers who began exporting local frogs to restaurants around the country. If you're ever down N'Orleans way, drop by and check out Rayne and its beautiful murals, many with a decidedly frog theme, adorning the sides of the city's buildings. Even better, drop by during the Labor Day weekend for the annual Frog Festival for some Cajun-style fun, including craft booths, carnival rides, a petting zoo, frog racing and jumping contests, zydeco music and lots of food. You might even give some frogs' legs a try.
Advertisement
Hey, the turtle and alligator offered as menu items at many of Louisiana's restaurants has to come from somewhere. For a minimal fee, you can take a 30- to 45-minute tour of one of the larger commercial farms – Kliebert's Alligator & Turtle Farm, near Hammond, Louisiana.
South Carolina's Edisto Island Serpentarium opened in 1999 and features both outdoor and indoor exhibits of native and foreign snakes, alligators, turtles and other reptiles.
Alligator Adventure, in North Myrtle Beach, South Carolina, is a croc-and-gator lover's paradise. The star attraction is UTAN, a Siamese/saltwater crocodile hybrid. At more than 2,000 pounds and longer than 20 feet, he's claimed to be the largest crocodilian ever exhibited anywhere.
Advertisement
Alligator Adventure is also proud of its albino alligators; 5,000-square-foot serpentarium housing unusual snakes from around the globe; Tommy, the 1,400-pound, 15-foot-long false gharial; Galapagos tortoises, including one 500 pounder; several large Komodo dragons and more than 800 American alligators.
The Cape Fear Serpentarium in Wilmington, North Carolina, provides a unique and rare glimpse into the world of venomous snakes. Visitors are treated to a large collection of species from around the world. Cape Fear also has the world's largest collection of bushmasters.