Check out these fun family reptile destinations!
Arizona-Sonora Desert Museum
The Arizona-Sonora Desert Museum (ASDM) is one of America's more unique and spectacular outdoor museums. Located just west of Tucson and tucked away on the western slopes of the Tucson Mountains, 75 percent of ASDM's exhibits are outdoors and take advantage of the wide, saguaro-studded vistas that greet visitors as soon as they walk through the entrance.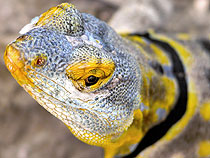 Advertisement
Photo courtesy of Craig Ivanyi/Arizona-Sonora Desert Museum
The Baja rock lizard (Petrosaurus thalassinus) is just one of 15 native Southwest lizard species on display at the Arizona-Sonora Desert Museum.

"This regional biopark uses a holistic approach in how it interprets the Sonoran Desert," said Craig Ivanyi, curator of herpetology, ichthyology and invertebrate zoology. Reptile lovers will enjoy the large lizard enclosure, home to 15 native lizard species. A total of 35 exhibits display more than 50 species of native reptiles, including 11 types of rattlesnakes.
According to Ivanyi, "In 2005 a new exhibit – 'Life on the Rocks' – will open. With more than 20 exhibits, of which 10 are dedicated to reptiles, this exhibit area will push the envelope in herpetological exhibitry by using a combination of indoor, outdoor and mixed species exhibits, giving visitors a glimpse at the diversity found in rocky, Arizona-Upland desert scrub."
Advertisement
Deep in the heart of New Mexico, in Albuquerque's quaint and historic Old Town, is one of the area's more eclectic attractions: the American International Rattlesnake Museum. This fascinating museum opened its doors in 1990 and has been an Old Town fixture ever since. It features 34 species of rattlesnakes, including all North American species as well as some Central and South American species.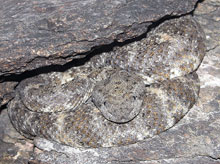 Photo courtesy of Craig Ivanyi/Arizona-Sonora Desert Museum
This El Muerto Island speckled rattlesnake (Crotalus mitchellii muertensis) is on display at the Arizona-Sonora Desert Museum.

Advertisement
"We also have live bull snakes because they mimic rattlesnake behavior, kingsnakes because they eat rattlesnakes and horned vipers from Egypt because they are so similar to sidewinders," said museum founder and director Bob Myers. "We try to display anything that adds to the rattlesnake story." A couple of the rarer rattlesnakes you'll encounter are a piebald prairie rattler, a striped Mojave and a striped western diamondback.
The museum houses an impressive array of "snaky" folk art; masks; movie memorabilia; sculptures; toys; early American flags; Native American pottery, kachina dolls and other displays. There are also live turtles, nonvenomous snakes and lizards that kids can touch and hold.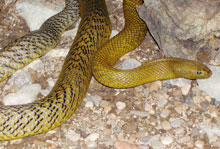 Advertisement
Photo courtesy of Black Hills Reptile Gardens
The inland taipan (Oxyuranus microlepidotus) is widely considered to be the world's most venomous snake. This specimen resides at Reptile Gardens, as do nine of the world's 10 most venomous species.

Advertisement
Colorado Gators Reptile Park, near Mosca, Colorado, and its companion business Colorado Gators Reptilian Adventure, in Colorado Springs, Colorado, offer Rocky Mountain visitors the opportunity to see and touch American alligators beneath snowcapped peaks. Both operations have many other herps and exotic animals on display. The Reptile Park has alligator wrestling shows and even offers gator wrestling classes for adventurous souls.
Colorado Gators began in 1977 as a geothermally heated commercial fish farm in the high-altitude San Luis Valley. In 1987, 100 baby alligators were acquired as natural garbage disposals to rid the fishponds of dead fish and carp. Before long, the public was clambering to get a look at the gators, and the now-more-than-400 gators on site went public in 1990.
Reptile Gardens South Dakota
From its humble beginnings in 1937 at the base of the famed Black Hills, just outside of Rapid City, South Dakota, Reptile Gardens has grown into a world-class collection of snakes, lizards, crocodilians and tortoises and one of the premier tourist draws in the Plains States. "At the Black Hills Reptile Gardens, you will see more species of reptiles than at any other zoo or park in the world!" according to Terry Phillip, curator of reptiles. The famous reptile park has been called the "Mecca of Serpentariums" and "Fangs-R-Us."
The park's primary emphasis is on crocodilians and venomous snakes, of which they currently have nine of the top 10 most venomous snakes in the world on display. Reptile Gardens owned the first inland taipans (considered by many to be the world's most venomous serpents) ever seen in the Western Hemisphere. The dozen at Reptile Gardens is the largest breeding group outside of Australia. This is also the only facility in the world with all three species of taipans. The park has all four species of mambas, three geographic forms of king cobra (one specimen nearly 15 feet long), death adders, tiger snakes, brown snakes, red-bellied black snakes, bushmasters, boomslangs and more than 270 other reptile species.
Advertisement
Many of the park's reptiles are on display in the Sky Dome. This giant indoor terrarium is the country's first and oldest walk-through tropical jungle habitat. A more recent addition is a saltwater croc named Maniac, who was flown directly from Australia to South Dakota. No small feat, considering Maniac tips the scales at 1,100 pounds and is 15 feet 5 inches in length.
People can also check out Methuselah, a Galapagos tortoise born in 1881 and South Dakota's oldest resident. Methuselah has greeted visitors since 1955.
If all that weren't enough, Reptile Gardens has an impressive fossil collection, including a caste of the largest turtle fossil ever uncovered.
Rattlers & Reptiles of Fort Davis Texas
In the rustic West Texas town of Fort Davis, you'll come across a little museum called Rattlers & Reptiles that features live exhibits, including one of the largest live rattlesnake exhibits anywhere.
The Snake Farm, in New Braunfels, Texas, is a bit of Route 66-ish nostalgia that evokes a less-hectic time when Interstates didn't exist and businesses would advertise oddities (human, animal and otherwise) to draw in road trippers. Snake Farm visitors can view a menagerie of some 400 reptiles and 75 monkeys, as well as exotic birds and some mammals (including zebras and longhorns). Sunday afternoons is alligator feeding time.
People on South Padre Island, Texas, love their sea turtles and no more so than the dedicated staff at Sea Turtle, Inc. This education, research and rehabilitation facility was founded in 1977 with the goal to assist the Department of Interior in its quest to establish a nesting beach for Kemp's ridley sea turtles. The facility rescues and rehabs other species of sea turtles too. Sea Turtle, Inc. conducts daily educational programs and walk-through tours of the facility.
If you like gators – really like them – then the annual three-day Gatorfest, held in Anahuac, the Alligator Capital of Texas, is the festival for you. It coincides with the opening of the 20-day alligator season in Texas, and hunters from around the state bring in their catches to the festival's Great Texas Alligator Roundup. About 10 percent of the wild alligators harvested annually in Texas appear at the Roundup. Past winners have been more than 13 feet long.
The 2005 Gatorfest will be held September 16, 17 and 18 at the historic Fort Anahuac Park on the banks of the Trinity River. Texas Parks and Wildlife will conduct live educational alligator displays while numerous vendors hawk all sorts of alligator products. There's fun for the whole family, including carnival rides, kiddie rides, a petting zoo, airboat rides, craft booths, musical acts, street dances and more than 25 food and drink booths, many offering alligator.