Pet frogs blamed for nationwide Salmonella outbreak.
Click image to enlarge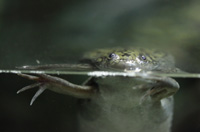 African dwarf frogs were specifically named in the report, but the African clawed frog is another popular
African water frog.
The Centers for Disease Control and Prevention (CDC) is collaborating with health officials across the U.S. to investigate a multistate outbreak of Salmonella due to contact with water frogs, including African dwarf frogs.
In an alert issued on Dec. 7, the CDC reported 48 illnesses in 25 states. Among the persons with reported dates available, illnesses began between June 24 and November 14. More than three-quarters of the patients are younger than 10 years old, and the median age is 4 years. No deaths have been reported, according to the CDC. Preliminary analysis suggests contact with frogs, including African water frogs, is a likely source of the infections. Investigators found the Salmonella strain in aquariums containing aquatic frogs in three homes of ill individuals, the CDC reported.
Advertisement
The CDC recommends that pet store owners and others who sell or display amphibians and reptiles provide information to owners and potential purchasers about the risks of acquiring salmonellosis from these animals.
Consumers are advised to wash their hands thoroughly with soap and water after touching any amphibian or a reptile and after handling their housing, food or anything that comes in contact with the animals.
At an increased risk for serious infections from salmonellosis are children under the age of 5, the elderly and those with weakened immune systems.
Most individuals infected with Salmonella develop fever, diarrhea and abdominal cramps within 12 to 72 hours after infection, and the illness lasts four to seven days.
For more information, visit: http://www.cdc.gov/salmonella/typh1209/index.html.
Advertisement