Tours of venom room to begin week of Thanksgiving, Nov. 19-26, 2011
A large donation of enclosures and other equipment from Exo Terra valued at approximately $30,000 has helped the Phoenix Herpetological Society with its plans to build a glass-enclosed classroom and "venom room" to house rattlesnakes, a black mamba, and other venomous snakes at its reptile sanctuary and education center in North Scottsdale, AZ.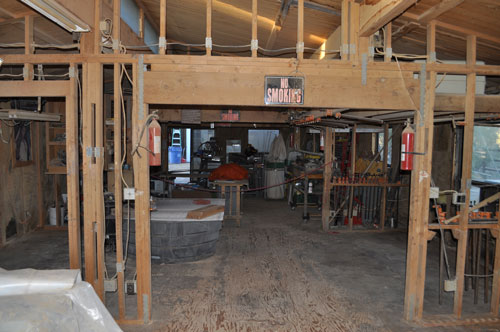 Advertisement
Photo courtesy PHS
The society did some major construction to get the classroom/venom room built out.
"Exo Terra has been a great supporter of PHS in the past and when we approached them for help with this project they sent a team of executives to our location to see what this was all about. When they left their comment was "we need to be working with you and will get back to you soon," said Russ Johnson, president of the Phoenix Herpetological Society. " Shortly thereafter PHS received a call from them that stunned every member at PHS. They wanted to donate all 128 enclosures that we needed. They have already started shipping units to us and are making arrangements to get the rest of the cages to us soon. I have to tell you that I still have to pinch myself to be sure that I am not dreaming."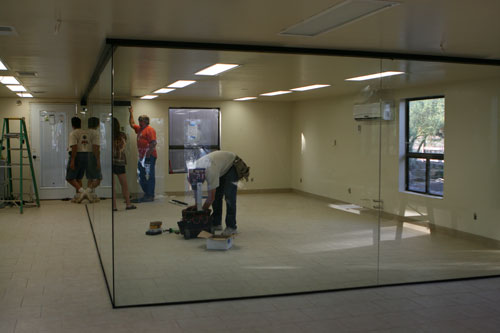 Advertisement
Photo courtesy PHS
The classroom/venom room is a floor to ceiling glass enclosure.
The $175,000 classroom/venom room is 1,150 square feet and is comprised of a display and research area with enclosures for the reptiles. The room, which is built floor- to- ceiling using glass, has space to house more than 180 reptiles. The facility will house 38 species of Crotalids, 13 species and two subspecies of Elapids, and 35 species of vipers. It is temperature-controlled and includes a viewing area that will enable visitors to the society to see PHS staff caring for and feeding the snakes.
Advertisement
Planning for the classroom/venom room started in early 2010. Pitching ace Randy Johnson introduced the project via press conference in October that started the fundraising for the project, which enabled the society to begin retrofitting an existing building in January of this year. A major endeavor was retrofitting the old building to make it wheelchair accessible. The society is currently putting the finishing touches on a wheelchair accessible restroom and ramp which will be completed by the Thanksgiving week opening.
Tours of the new facility will begin the week of Thanksgiving and run through Nov. 26. Tours are $20 for adults, $15 for ages 4 to 17, and free for children 3 and younger. Tours can be booked by calling the society at 480-513-4377 or via email at Debbie@phoenixherp.com.