Columbus Communities working with conservation groups to ensure last viable breeding pond of Rana capito sevosa is protected.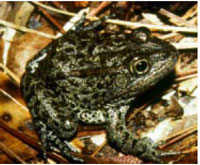 Columbus Communities will swap land adjacent to the last viable breeding pond of the gopher frog for land in the DeSoto National Forest, under the MOU.
Columbus Communities, a developer of a planned community in Harrison County, Miss, is working with the Center of Biological Diversity and Gulf Restoration Network on a land exchange between the developer and the U.S. Forest Service in an effort to protect one of the last remaining breeding ponds of the Mississippi gopher frog (Rana capito sevosa). Columbus Communities is currently developing a 4,800 acre planned community right next to the gopher frog's only viable breeding pond in Mississippi. The memorandum of understanding between the developer and the conservation groups will push for the exchange of lands owned by the developer that are near the pond with another parcel of land in the DeSoto National Forest.
The frog is unique among amphibians in that in order to survive, regular brush fires are necessary to clear away brush and trees in areas in which the frog lives. The collared lizard also benefits from fires. With a community built so close to the breeding pond, controlled brush fires would have been difficult to conduct, hence the proposed land swap.

The gopher frog population in the wild is currently estimated at 100 individuals as of 2011. There are approximately 1,500 gopher frogs in zoos, the result of a captive breeding effort at the Henry Doorly Zoo in Omaha, Nebraska.
Advertisement