Friends of El Mirage to educate off highway vehicle riders who ride at El Mirage
The Friends of El Mirage, a group devoted to educating visitors of the Lake El Mirage recreation area in El Mirage, California has partnered with the Federal Bureau of Land Management in opening a new desert tortoise habitat at El Mirage. The learning facility opened March 31 with the release of five desert tortoises (Gopherus agassizii) into the 2,600 square foot habitat. The habitat is unique because it is in the El Mirage Off Highway Vehicle recreation area.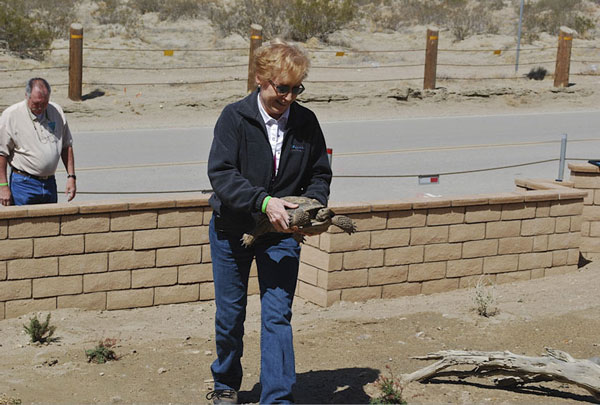 Photo by Abbey Hood.
Five desert tortoises reside at the El Mirage Desert Tortoise Habitat.
The habitat will serve as an education center for those visiting the area where they can learn off highway vehicle rider safety as well as information about desert tortoises and other desert dwelling animals.
"Our goal is to educate the public so they can understand and choose to do the right thing and protect the tortoises so we can have places to ride in the future," said Dani Haskell, ranger at El Mirage Off Highway Vehicle area. "We need to start learning to appreciate the environment that we are riding in and we need to be friendlier with the environment and the creatures that live in it."
Advertisement
Rose Breadshear, an interpretive specialist at El Mirage and Ranger Art Basulto came up with the idea to educate off highway riders and others about the desert tortoise. It was determined that El Mirage was an ideal location for the desert tortoise habitat in part because it is one of the busiest off highway vehicle riding areas in Southern California, and more riders, and especially the younger generation, can be easily educated about the chelonians when they visit El Mirage.
The desert tortoise ranges from the Mojave and Sonoran deserts in Southern California and can also be found in Arizona, Nevada, as well as in areas in Mexico. It grows to about 8 to 10 lbs. and eats mostly weeds and leafy weeds in the wild. The desert tortoise is a protected species and it is speculated that more desert tortoises can be found in captivity than in the wild.
For more information about The Friends of El Mirage or the Desert Tortoise Habitat, please visit www.ElMirage.org.