A look into Brian Potter and his reptile background.
It was not until his time in the Marines, while stationed at Camp Pendleton in Southern California in 1989, that Brian Potter began his work with herps. Although he had always been fascinated with them, he got his first taste of working with them professionally when he began employment at the Reptile Haven store not far from base. The establishment was one of the first pet stores to focus on reptiles, and from that point on, Potter was hooked.
---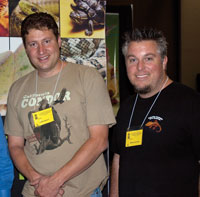 Sandy Quinn
Brian Potter, right, and partner Bob Ashley
---
During his time in the Marines, Potter met Jeff Lodico, and the two worked at Reptile Haven together. In 1993, when Potter and Lodico left the Marines, they established their own business, Chicago Reptile House, in Orland Park Ill. Not long after that, they opened Chicago Birdhouse and then Chicago Fish & Coral Company. But Potter was far from being finished with his entrepreneurial ventures.
Realizing that he could take his love of reptiles on the road, Potter partnered with Bob Ashley, owner of ECO Publishing, and founded the North American Reptile Breeders Conference & Trade Shows (NARBC.com). Every year, the NARBC holds expos in Anaheim, Calif.; Tinley Park, Ill.; and Arlington, Texas. The events have grown over the years, and they have now become some of the largest and most popular reptile expos in the industry.
As someone who is deeply entrenched in the reptile industry, Potter has been active in helping to shape organizations and herp legislature for the past two decades. Before USARK even had a name, Potter and Ashley called the first legislative meeting in Chicago during the Tinley Park expo. "I think a few politicians know we are here to stay," says Potter of their efforts.
But as hard as he works, it has rarely ever felt like work to him. "I have done some cool things just being involved in reptiles," Potter says. " I have made friends with rock stars, like Slash and Slayer's Kerry King; helped to put a giant tortoise into Leonardo DiCaprio's car at the NARBC in Anaheim, Calif.; done some promo work with Joey Pants from The Sopranos; made a good friend in Animal Planet's Nigel Marven; been on NBC, CBS, FOX, WGN, CLTV and done the Conan Obrien Show; been on the Mancow radio show a bunch of times; hung with Vince Neil of Motley Crue; hung out backstage with Henry Rollins. . . it just adds to the craziness of the reptile industry. And it's all fun… most of the time! Herpers tend to be cool, down-to-Earth people, even if they are famous!"